Symmetry can be used as a fundamental design tool. Symmetry is used by man and nature as a device to add continuity, balance and harmony to a chaotic universe, its use in art and design, consequently, attains an aesthetic of order and familiarity.
In this class you will explore principles of advanced pattern forming in fused glass. Using pre-formed Bullseye colored glass striped sheets, you will expand your knowledge and experience of kilnforming and coldworking techniques to produce intricate patterns which utilize symmetry and geometry to create hypnotizing mandala-like patterns. You will be guided through the creation of Bullseye glass striped sheets which once fired will be deconstructed and reassembled. You will learn how the arrangement of tone and color can enhance the optical properties of the pattern design and how to lay out the pattern using principles of four-fold and eight-fold symmetry. You will use these concepts and techniques to create a glass tile of your own design.
SKILL LEVEL: INTERMEDIATE TO ACE
INTERMEDIATE: A student should have an understanding of basic skills and can perform those tasks with little or no instruction.
ADVANCED: A student is skilled and practiced, and is able to process conceptual and theoretical ideas but might still need some instructor direction on more complicated processes.
ACE: A student has a mastery of advanced skills and can perform them independently without instruction.
INFORMATION ABOUT LUNCH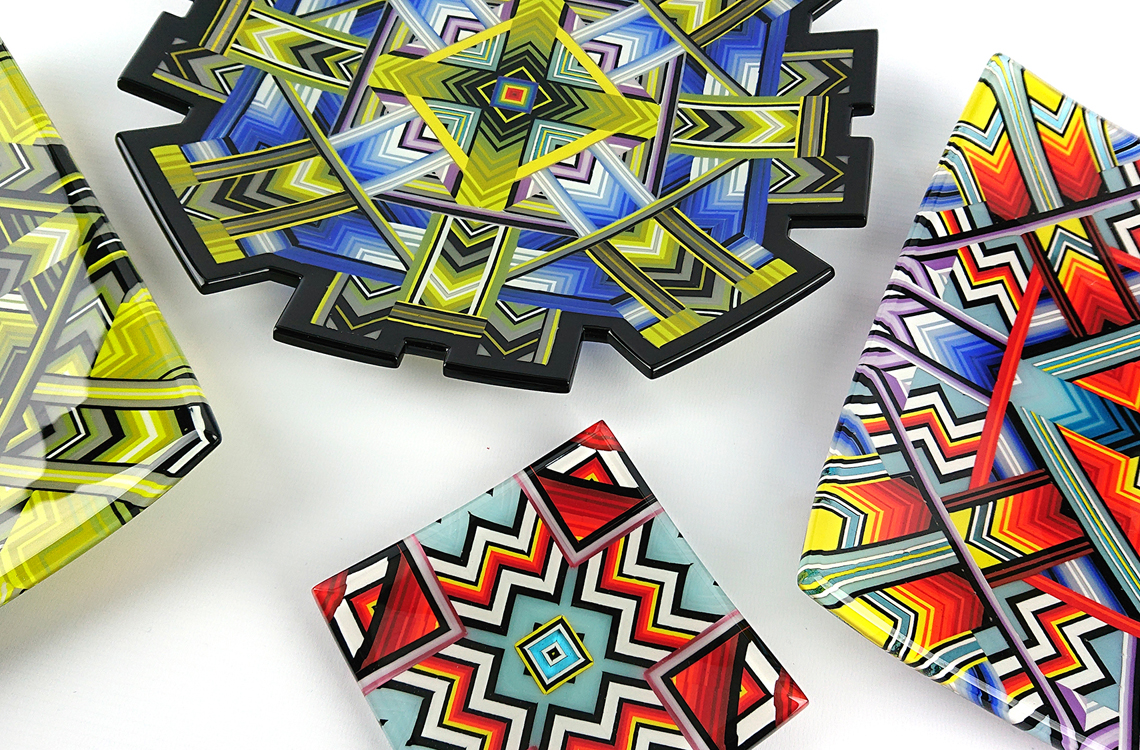 Class Details
When
May 18 - May 22 -
Days: Mon, Tue, Wed, Thu, Fri
Remaining Seats: 1
950 sq. ft. air conditioned shop
Four 2' x 3' casting kilns
Two 18" x 24" fusing/casting combination kilns
Two 20" x 40" fusing kilns
Two 24" w x 15" h x 22.5" d front-loading Paragon kilns
And more...
About the Instructor(s)
https://ianchadwickglassart.co.uk/
www.instagram.com/ianchadwickglass
Ian Chadwick is an internationally recognized Kiln-formed glass artist. Winner of the Worshipful Company Of Glass Sellers Award at the British Glass Bienale 2019. Ian has an interest in geometry and in particular in the history and philosophy behind the geometric symbols known as mandalas. This interest is realized in Ian's glass work where the ritualized process of making is employed to bring the essence of mandalas into the symmetrical glass patterns which have become his unique signature aesthetic. As Ian has progressed his work he has continued to investigate different pattern forming techniques and new ways to engage with the viewer. The patterns have evolved and become multi layered and less ordered. The most current range of Ian's work is designed to represent a map of the mind in its chaotic juxtapositioning of lines of thought.