Immerse yourself in sculpting marine flora and fauna in soft and Borosilicate glass to create unique glass vignettes. Discover the joy of creating lifelike displays in the flame using all the amazing palettes and varied techniques of the modern day lampworker. We will be building on deb's Just Dive In series, but it is not required to join this class. Be ready for an exciting, fast-paced week chock full of deb's techniques. deb will demonstrate each animal or plant and include reference materials and secret tricks for some of her best selling items! We will learn to use dichroic and foil in fish, enamel for body patterns and develop those pricey silver lusters while keeping that soft glass hot and happy! We will be breaking down body shapes, coloring, patterns and discovering the best methods for reproducing that plant or animal in the most realistic way. We'll start with simple soft glass fish, then move on to more lifelike fish the second day. On day three we will sculpt Borosilicate flora and on day four, we will finish with blowing fantastic, realistic shells with Borosilicate tubing! On Friday we will finish assembling our vignettes and do some final torch adjustments to the Borosilicate elements and fish pegs where needed. On Friday after clean up, we will take a group class photo with all those gorgeous aquatic vignettes! deb is very much looking forward to teaching this class and diving in with all of you! You are encouraged to bring driftwood, burl or coral that we can drill out for the display base. It must be as flat as possible on the bottom. A few will be available for purchase but they are available on many online sites.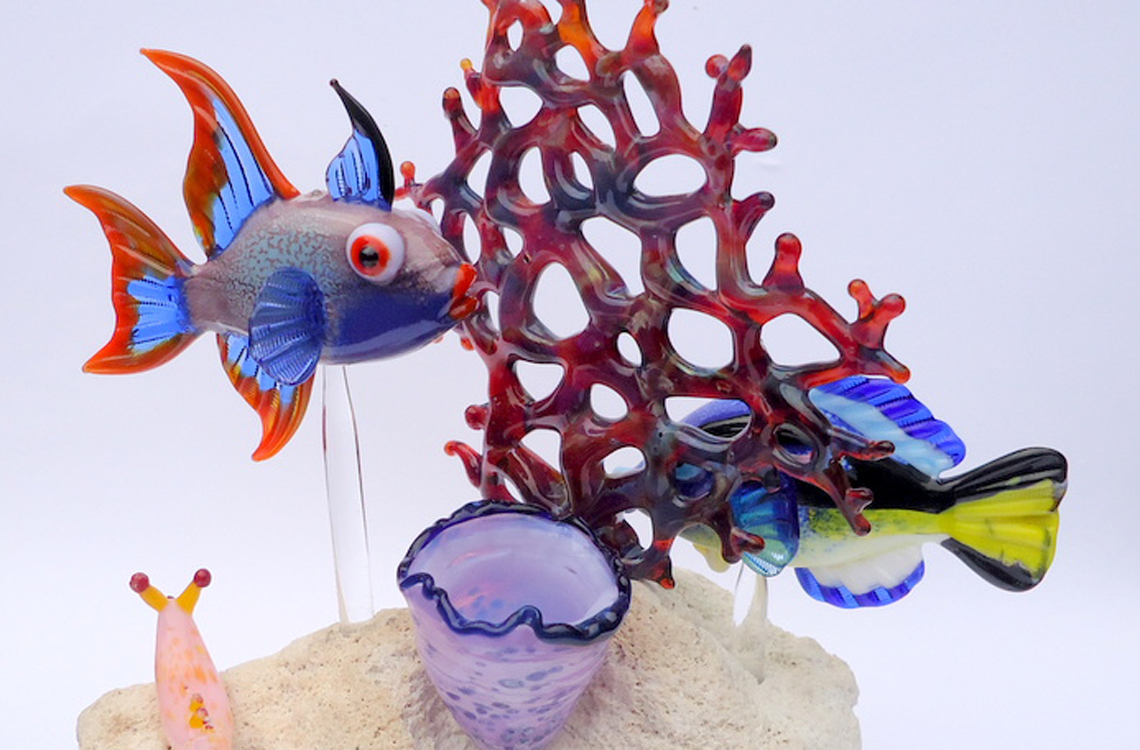 Class Details
When
May 13 - May 17 -
Days: Mon, Tue, Wed, Thu, Fri
Tuition
Tuition: $ 900.00
Members receive a 10% discount
900 sq. ft. air conditioned shop with 12 workstations
Nortel Major/Minor Torches
Benchtop annealers with 12" x 9" interior
Toolbox with essential tools for working with glass
Ventilation hood
And more...
About the Instructor(s)
Deb has created stained, fused, and lampworkglass as her full-time job since the 80s, she has taught glass since 1989. She had a commercial stained glass business in Las Vegas from 1990 to 2002, also fusing and sandblasting. She started teaching lampworking in 1990. Also, she taught stained and fused glass at the college there 11 years until she moved to the PNW. She teaches all phases nationally, as well as having many collectors of her art worldwide.
Deb loves teaching, just seeing the realization on students faces that they can create with glass is amazing, I love being able to pass on so many years of struggle and watch the smile blaze across a students face when they realize they CAN do it. We take our skills for granted until we see someone trying to use a stringer or something we had to learn to do and it makes us remember what it took to get there! It is very humbling!