Each of the flameworking classes in deb crowley's aquatics series incorporates flora and fauna in a realistic vignette. We start with soft glass (Effetre) species-specific fish on the first and second days. Then switch to Borosilicate glass for the delicate flora the next two days. Finally we will complete the seascapes on Friday morning. Each component will be demonstrated by deb followed by lots of time to create your own pieces. Be ready for a fun, fast-paced marine sculpture class with completed vignettes on Friday afternoon! Learn from deb many of her techniques for creating her renown fish, sea life and sea shells. See a demonstration of deb's lifelike blown sea shells if time allows.
SKILL LEVEL: INTERMEDIATE TO ACE
INTERMEDIATE: A student should have an understanding of basic skills and can perform those tasks with little or no instruction.
ADVANCED: A student is skilled and practiced, and is able to process conceptual and theoretical ideas but might still need some instructor direction on more complicated processes.
ACE: A student has a mastery of advanced skills and can perform them independently without instruction.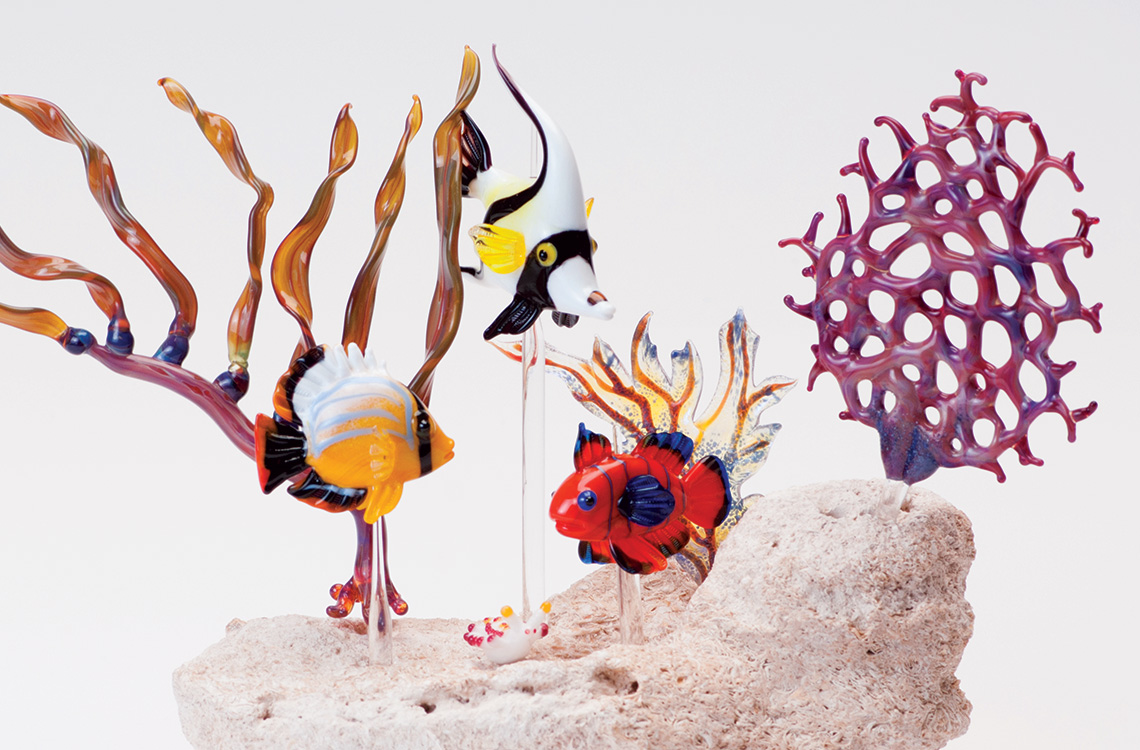 Class Details
When
August 3 - August 7 -
Days: Mon, Tue, Wed, Thu, Fri
Remaining Seats: 10
900 sq. ft. air conditioned shop with 12 workstations
Nortel Major/Minor Torches
Benchtop annealers with 12" x 9" interior
Toolbox with essential tools for working with glass
Ventilation hood
And more...
About the Instructor(s)
https://www.debcrowley.com
www.instagram.com/debcrowleyglass
Debbie has been involved with glass for 30 years, 20 of them owning and operating a custom stained, etched and fused glass studio in Las Vegas, NV. She moved to the beautiful Oregon coast to continue her quest for HOT glass. Debbie has won numerous awards and has been included in many art books, magazines and publications for her glass art, tutorials, DVDs and her Glass Stock events. She has been teaching art over 30 years, including lampwork, fused, etched and blown glass, stoneware and raku clay. She also enjoys weaving canes and fibers, watercolors and pen and ink drawing. Her glass fish and blown seashells are collected world wide. She teaches private classes in all phases of art glass year round in her studio.
Deb loves teaching, just seeing the realization on students' faces that they can create with glass is amazing, "I love being able to pass on so many years of struggle and watch the smile blaze across a student's face when they realize they CAN do it. We take our skills for granted until we see someone trying to use a stringer or something we had to learn to do and it makes us remember what it took to get there! It is very humbling!"