Want to create thick glass panels that have great dimension and depth?
In this class, you will learn how to apply enamel to glass layers, and then stack and fuse these layers into solid panels. Topics covered include design and image selection, layout, discussion of enamels and how they respond to fusing temperatures, painting medium, how to mix and apply enamels, fusing schedules, bubble control, kiln loading instructions, and finishing techniques.
The emphasis of this class is the processes involved in creating thick panels that include great dimension. It is not primarily a painting workshop, however many painting tips and techniques are also provided. Although drawing and painting experience is helpful, it is not required.
You will complete several initial exercises, then 2 complete projects during this class. You are encouraged to choose and bring to the class printed images for compositions that you would like to use for these projects. Important image selection guidelines will be provided prior to class.
SKILL LEVEL: BEGINNER TO ACE
BEGINNER: A student has basic skills but is not yet comfortable performing tasks without instructor guidance.
INTERMEDIATE: A student should have an understanding of basic skills and can perform those tasks with little or no instruction.
ADVANCED: A student is skilled and practiced, and is able to process conceptual and theoretical ideas but might still need some instructor direction on more complicated processes.
ACE: A student has a mastery of advanced skills and can perform them independently without instruction.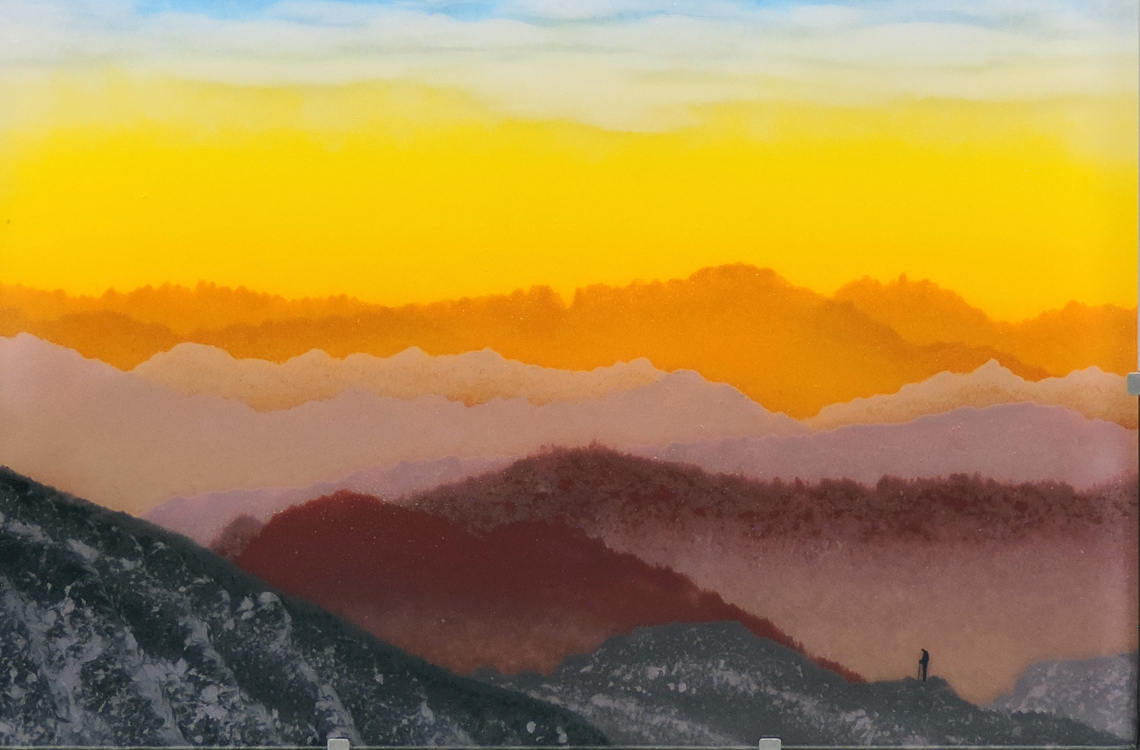 Special Notes
Note that items made in class will have to be picked up on the following Monday or shipped due to the thickness of the work.
Class Details
When
March 9 - March 13 -
Days: Mon, Tue, Wed, Thu, Fri
Remaining Seats: 8
950 sq. ft. air conditioned shop
Four 2' x 3' casting kilns
Two 18" x 24" fusing/casting combination kilns
Two 20" x 40" fusing kilns
Two 24" w x 15" h x 22.5" d front-loading Paragon kilns
And more...
About the Instructor(s)
www.PaulMessink.com
www.instagram.com/paul_messink_glass_art
Paul Messink is an award-winning kiln-work glass artist and international instructor who draws on prior drawing and painting experience to create hand-painted, multi-layered glass panels that present nature and figures in deep dimension.
"I create hand-painted, multi-layered, kiln-cast glass panels that exhibit nature in deep dimension, presenting natural objects around us in a new way. My goal is to draw the viewer into the work of art, transforming a painting (historically, a 2D art form) into something more."
Viewers frequently ask if a photograph has been embedded in layers of glass. But using only enamel applied by hand, Paul Messink creates depth using several techniques including layering, diminishing size and color, texture, and translucence. He typically uses 9-24 layers of glass; they are then kiln-cast into a solid panel after all layers are complete.