PGC's kiln shop is a flexible space for making stained glass, creating mosaics, and pursuing kilnforming activities, such as casting, fusing, and slumping.
Our introductory hands-on pod workshops are new and designed for 2–5 friends/family members. You work in a small group with only those people in your pod who you've invited to this class. You receive guided instruction from a local teaching artist to help you create your own work of art. There are three types of workshops to choose from:
FUSING
Using colorful flat sheet glass, colored glass granules, and thin glass rods, learn to cut and assemble glass while it is cold then fuse it in the kiln to create your own designs:
Slumped Dish $115/person
Suncatcher $115/person
Fused Valentine $115/person
Draped Candle Holder $115/person
Each person will make at least 1 item if not 2 or more.
MOSAIC
Arrange small pieces of colored glass on a base to produce a unique 2D design. There are two types of mosaic:
Traditional Cold Mosaic $115/person - Traditional cold mosaics are assembled using glue, grout to adhere colored glass to a 6x6 wood base.
Fused Mosaic $115/person - Using sheet glass and glass powder, this technique allows you to create a design or image in glass without the grout. Final designs are fired in the kiln making a solid piece of art.
Each person will make 1 item.
STAINED GLASS
Explore stained glass techniques while bringing to life at least two creepy-crawly critters. Add metal rods to your critter design and bend or curl the ends to create antennae and legs.
All workshops are 2-hours. Ages 10+. 2-5 people. $115/per person
EACH PERSON IN THE CLASS MUST MAKE THE SAME TYPE OF OBJECT. AT CHECKOUT YOU WILL BE ASKED TO SELECT ONE ITEM.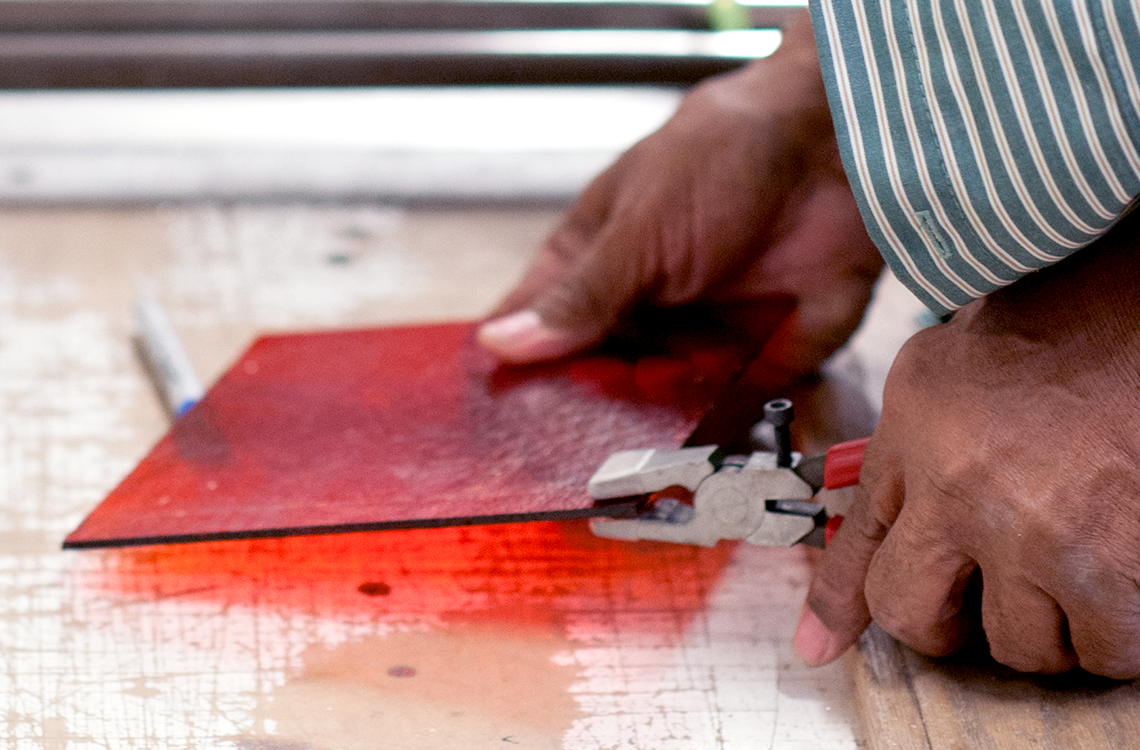 Special Notes
Special notes
Here's how to register:
Create your pod. Make a list of friends and family who will take the workshop with you. (No individuals other than those you invite will be allowed to take part in the class.)

Choose a time and date that is good for everyone. Pod classes are available Wednesday, Thursday, Saturday and Sunday. Only 1 pod class will take place in the studio at a time.

Decide what you would like to make. Each member of your group must make the same type of item.

Register and pay with credit card online. When you register you will be paying for 2 people and reserving your day and time. Each person costs $115.

We will contact you to confirm your reservation. You can pay the remainder of the balance for your other guests at that time.

Private lessons, tours and demonstrations are also available. Visit https://www.pittsburghglasscenter.org/small-group-activities to get more information.

If you have any questions, contact us at glassinfo@pittsburghglasscenter.org or call 412-365-2145.
Class Details
When
January 27 -
Day: Wed
Remaining Seats: 1
Tuition
Tuition: $ 230.00
Members receive a 10% discount
950 sq. ft. air conditioned shop
Four 2' x 3' casting kilns
Two 18" x 24" fusing/casting combination kilns
Two 20" x 40" fusing kilns
Two 24" w x 15" h x 22.5" d front-loading Paragon kilns
And more...