There are many different styles in mosaic, from classical to modern/abstract, from whimsical to realistic, and more. Mary loves them all, and the artistry and creativity that mosaicists bring to their pieces. But what she is known for - and what this class is about - is achieving photorealism in mosaics. Start with a photo, and render it with sufficient fidelity such that it is the closest representation to the original image that it can be.
We will focus on the importance of (and techniques for) rendering light and shadow in a mosaic. In so many artistic mediums such as painting, photography, and sculpture, the difference between a really good piece and a less-successful one is how the light is treated and how it's translated into the composition.
We will explore the role of color in mosaics, and why photorealism hinges on using the entire range of hues, tones, and values. Choice of tesserae size is critical. We'll practice different cutting techniques to achieve depth of field as well as textural variety.
You will work from your own photos (pre-approval required), and are encouraged to bring your own glass if your project requires specific or unique colors. We will work the "direct method," gluing stained glass directly on to a substrate. Everyone will not finish their piece during the class, depending on your speed and precision, but everyone will leave with a strategy for doing so. This is NOT a class for absolute beginners. You should have a moderate amount experience in creating mosaics and at least basic glass cutting skills.
INTERMEDIATE SKILL LEVEL
A student should have an understanding of basic skills and can perform those tasks with little or no instruction.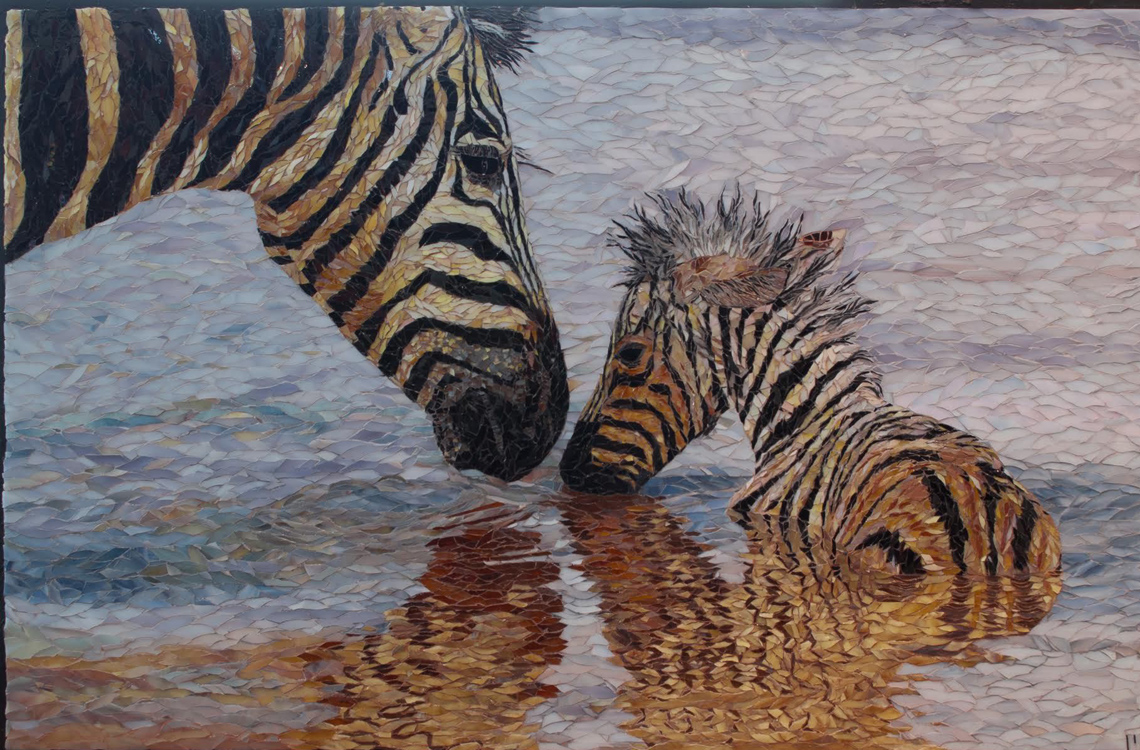 Special Notes
PGC will provide tools; however you can bring your own if you are more comfortable. The specific tools you'll need are nippers, running pliers, glass scorers and tweezers.

PGC will supply grinders, the substrates, glue, and scissors, in addition to tracing paper and acetate sheets needed for making templates.

PGC has plenty of mosaic and stained glass available for student use, but if your project requires specific or unique colors, you are encouraged to bring your own supplies to bridge any gaps.
Class Details
When
June 1 - June 5 -
Days: Mon, Tue, Wed, Thu, Fri
Remaining Seats: 8
950 sq. ft. air conditioned shop
Four 2' x 3' casting kilns
Two 18" x 24" fusing/casting combination kilns
Two 20" x 40" fusing kilns
Two 24" w x 15" h x 22.5" d front-loading Paragon kilns
And more...
About the Instructor(s)
https://www.marydrivermosaics.com
I started doing mosaics in about 2004, on a lark. It was the dawn of the empty-nest phase in our household, and I found myself with a lot of time on my hands at the end of a work day. Over time, I've dabbled in different styles, including portraiture and folk-artsy, humorous pieces. But the one thread running through most of my work in this past decade has been the celebration of light, glorious light. It has transformed how I think about a composition and how I execute it, piece by piece. I can't say enough about it. Teaching workshops has been both fun and illuminating. Students bring unique photos to work from, and each one presents different challenges and opportunities for learning - not just for the student undertaking that mosaic, but by all the workshop participants. It's a journey we undertake together.