The glass shop and the dinner table are both metaphors for community. Each tell stories about craft, tradition, history, culture and ritual and have the ability to gather people. Through lectures and demonstrations, we will explore the potential of sculpture and design using glass, food and found materials. Your objective will be to use the hot shop and the cold shop to create sculptural and functional glass. We will focus on finding new applications for traditional techniques through blowing, hot sculpting, cane pulling and experimentation in the hot shop. We will also cover coldworking, gluing, drilling and other solutions for finishing pieces. The class will culminate in a final participatory art "dinner party" where we will eat together from a collaborative food and glass installation made over the duration of the workshop.
SKILL LEVELS: INTERMEDIATE TO ACE
INTERMEDIATE: A student should have an understanding of basic skills and can perform those tasks with little or no instruction.
ADVANCED: A student is skilled and practiced, and is able to process conceptual and theoretical ideas but might still need some instructor direction on more complicated processes.
ACE: A student has a mastery of advanced skills and can perform them independently without instruction.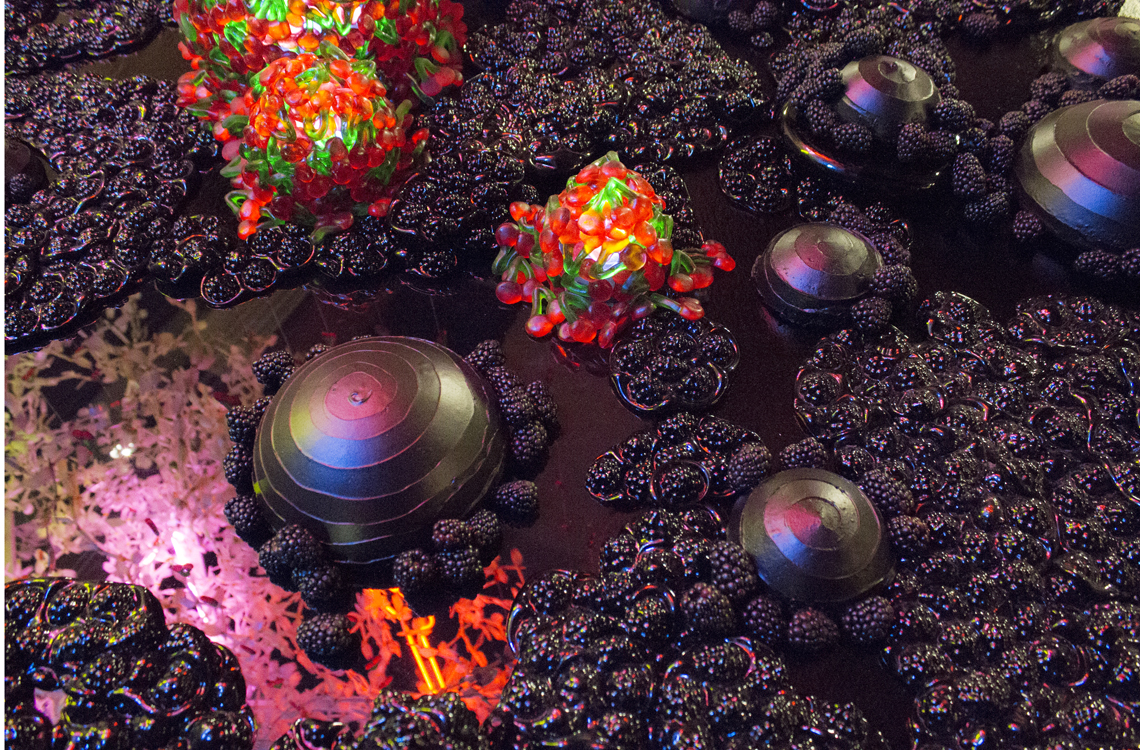 Special Notes
INSTRUCTORS: Jessica Jane Julius + Erica Rosenfeld
Class Details
When
June 1 - June 5 -
Days: Mon, Tue, Wed, Thu, Fri
Remaining Seats: 12
2,560 sq. ft.
Two 1,000 lb. Wet Dog invested pot furnaces
Full range of hand tools, pipes and punties
One 18" glory hole with pneumatic doors
One 18" glory hole with barn doors
Two mobile gas-powered garages
And more...
About the Instructor(s)
https://www.jessicajjulius.com
www.instagram.com/jjj1370
Jessica Jane Julius is an artist, educator, collaborator and performer who creates glass installations, objects and imagery that examine how fear is infiltrating the ways in which we navigate the world and presents a look at the anxieties and complexities of our current "culture of fear." She is co-founder of the artists' collective and performance group, The Burnt Asphalt Family, who produces collaborative, participatory and edible works and performed at prestigious venues including the Corning Museum of Glass, the Chrysler Museum and Urban Glass. Her works have been exhibited at venues including the Philadelphia Museum of Art, The Museum of American Glass, and MarketView Arts. Currently, Julius serves as the Department Head of glass at Tyler School of Art and Architecture and has a private studio in Philadelphia.
https://www.ericarosenfeld.com/
www.instagram.com/ericarosenfeld8
Embracing the cultural histories of glassmaking, cooking and crafting, Erica's work celebrates community-centric, obsessive, labor-intensive ritual. Her hybrid artistic practice has centered on performative, sculptural and social aspects of glass and food-making. She uses glass, beads, food and found objects to create sculptures, installations, performances and jewelry. Her own work is held in private and public collections nationally and has been featured in exhibitions at the Museum of Arts and Design, Kentucky Museum of Art, Racine Art Museum, Museum of American Glass and the John Michael Kohler Arts Center. Erica has taught at Pilchuck Glass School, Urban Glass, The Corning Museum; she has been a visiting artist at Tyler School of Art, San Jose State, Pratt University and University of Louisville.