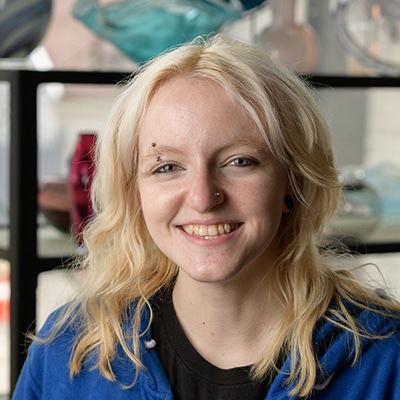 jessschwarz@pittsburghglasscenter.org
Jess Schwarz graduated from Columbus College of Art & Design in Columbus, Ohio, with a BFA in studio arts and an emphasis in the history of art & visual culture with a passion for multidisciplinary sculpture and installation art.
As a multimedia sculpture artist, Schwarz enjoys exploring play within the studio, utilizing combinations of alternative materials such as latex, foam, silicone, resin, textiles, and traditional beadwork. They possess skills in glassblowing, flameworking, cold shops, sand casting, blow molds, and stained glass.
Schwarz's academic ventures have been showcased at the Southern University of New York's Undergraduate Art History Conference of 2022, as well as the annual CCAD Art History Symposiums. Their artwork has been featured in several shows, including CCAD's CHROMA, the Art History Student Collective, and Assembled Identities.
Beyond the studio, Schwarz has honed their skills in the field of curation and art handling, helping put together numerous gallery exhibitions. In addition, they have worked in the college's glass department, maintaining the furnace, cleaning reheating units, and general upkeep of kilns, annealers, and torches. Schwarz has also spent several years in the college's sculpture lab, serving as a general tech, maintenance person, and manager. They possess a wealth of knowledge in the handling and installation of artwork.