Embracing a culture of diversity
Pittsburgh Glass Center (PGC) is committed to fostering, cultivating and preserving a culture of diversity, access, equity, and inclusion.
PGC benefits from a multiplicity of viewpoints that varied experiences can bring. We embrace and encourage our constituents' differences in age, color, disability, ethnicity, family or marital status, gender identity or expression, language, national origin, physical and mental ability, political affiliation, race, religion, sexual orientation, socio-economic status, veteran status, and other characteristics that make them unique.
The collective sum of the individual differences, life experiences, knowledge, inventiveness, innovation, self-expression, unique capabilities and talent that our employees, board members, instructors, students, and audiences invest in our work represents a significant part of not only our culture, but our reputation and achievement as well.
Make Pittsburgh Glass Center and its services accessible and affordable to every household and organization in Pittsburgh
Strengthen the organization by the inclusion of individuals that reflect the varied cultures of our community in staffing, board members, teaching artists, and vendors.
Meet people where they are.
Reach and engage with more artists of color and continue to make the glass art landscape more racially diverse.
Our studios are open to everyone who wants to learn and create.
We offer a variety of scholarships in an effort to make our classes accessible to as many people as possible.
We welcome groups of all ages and abilities to our studios to watch hot glass demonstrations and participate in hands-on activities. If you can't come to us, we can bring activities and demonstrations to you free of cost.
We also offer artist residencies to allow glass and non-glass artists time to learn new skills, create innovative work, or develop pieces for an exhibition at PGC or elsewhere.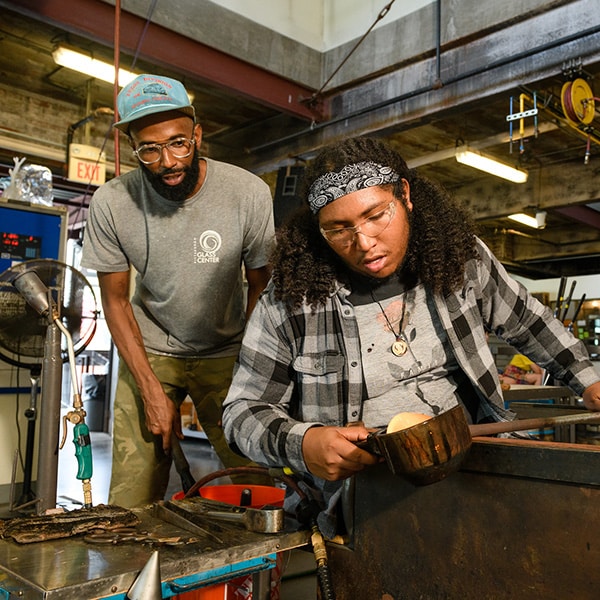 Since our inception in 2001, PGC has been located on the edge of Garfield, a historically Black community. Since 2016 we have offered full scholarships for people of color and had the honor to have awarded over 100.
Despite these facts, the demographics of our students and attendees remain predominantly white. That shows us that while we try, we are not doing enough to diversify, and we challenge ourselves to change that.
If there are any ways that we can make our environment more inclusive and accessible, we encourage you to contact Olive Hughes, our Outreach and Accessibility Coordinator. We want to listen and evolve for the betterment of our communities.