Pittsburgh Glass Center is located in Pittsburgh's East End neighborhood of Friendship/Garfield, approximately four miles east of the Strip District in downtown Pittsburgh. PGC is a public access facility and admission is free; however, there is a $5 suggested donation.
Everyone is welcome to visit during our open hours and take a self-guided tour to see our contemporary glass exhibition, explore our studios, browse in our gift shop, and meet our artists. We also have many opportunities for you to get into glass. 
Pittsburgh Glass Center is free and open to the public. Stop by during our open hours to explore and learn more. Classes, events, and studio rental are all available outside of our regular hours. Check out our FAQs to learn more.
5472 Penn Avenue,
Pittsburgh, PA 15206
Lobby, Gallery & Retail Shop Hours
FALL 2023
Mondays Closed
Tuesday–Saturday 11am–7pm
Sunday 11am–4pm
Closed for Thanksgiving November 23–26. Closed for holidays + construction December 23, 2023 – February 2, 2024.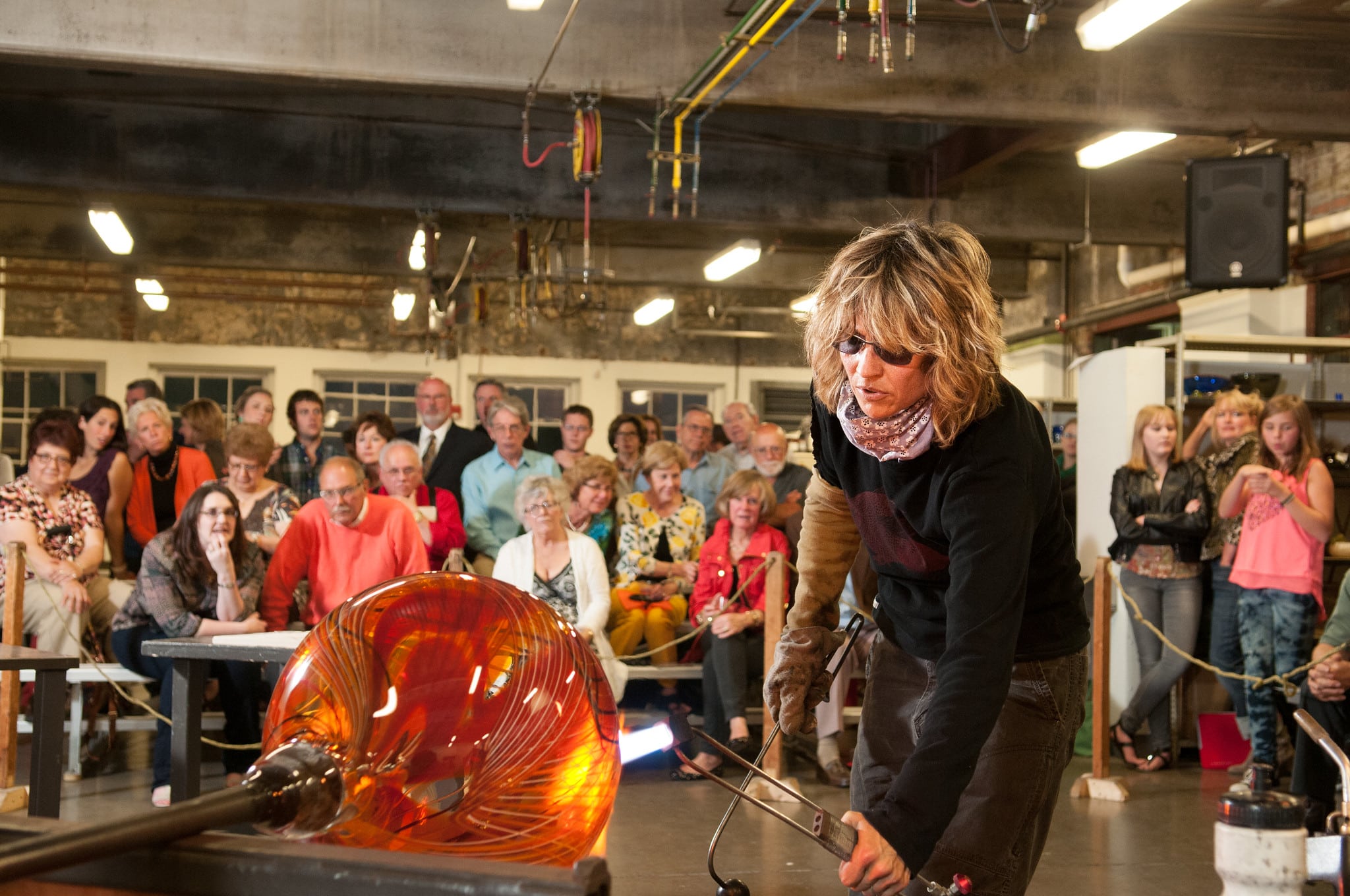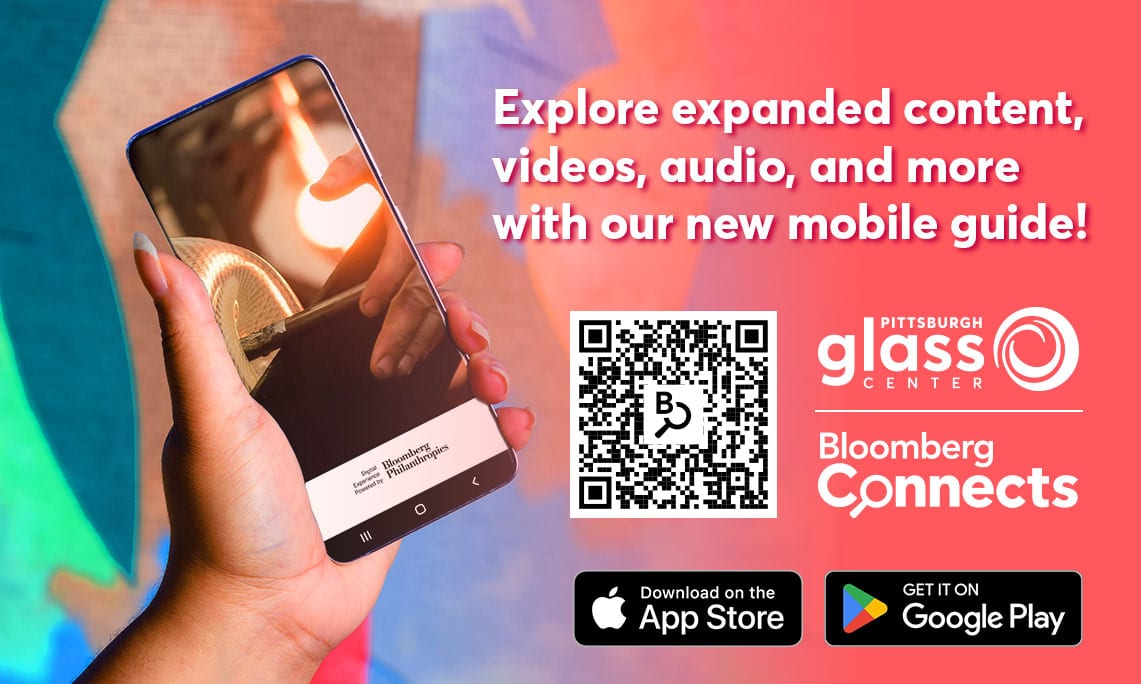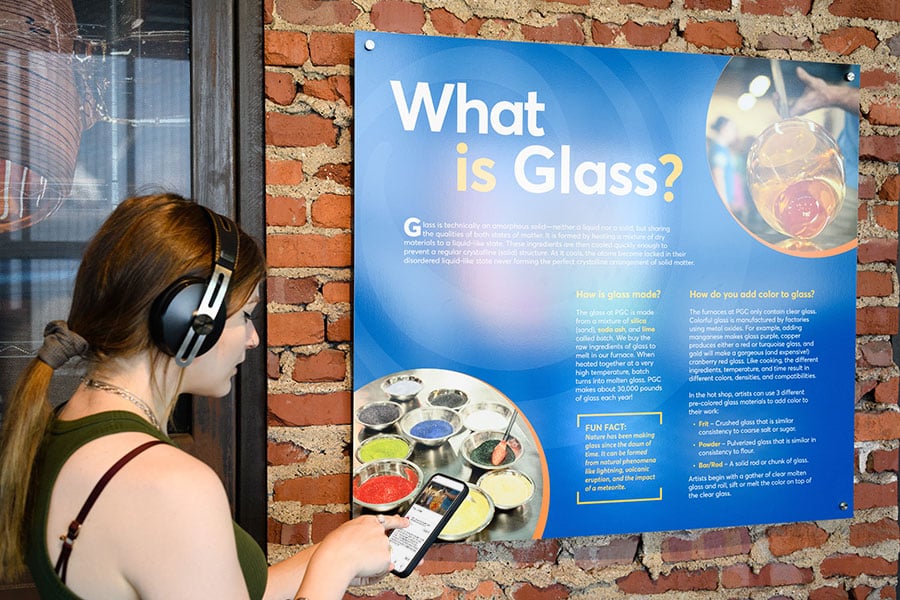 Pittsburgh Glass Center has begun construction on the expansion of our facility which will allow us to more than double the number of people that visit each year! During construction, all activities will proceed as normal, but our parking lot will be unavailable. We encourage you to allow extra travel time to find parking in the surrounding areas. Parking on Penn Avenue in front of and near our building is free.
Our main entrance has been relocated to the very front of our building along Penn Avenue. The entrance remains wheelchair accessible. When you arrive, proceed up the ramp and through the door, continue past our Flame Shop and you will see the front desk up ahead in our retail area.
While PGC is public access and admission is free, there is a $5 suggested donation. We rely on individual contributions to augment the revenue generated by our classes and workshops in order to keep our doors open, our fires hot, and to continue our mission of education and community outreach. There are two donation boxes located on the first floor of our Penn Avenue building. We genuinely appreciate support in whatever amount you are able to give!
You can still explore our studios using our digital guide on Bloomberg Connects, the free arts and cultural app created by Bloomberg Philanthropies. The Bloomberg Connects app, available for download from Google Play or the App Store, makes Pittsburgh Glass Center accessible through photo, audio, and video features offering insights into the science, art, and history of glass in Pittsburgh. Once you install and open the app, search for or scroll to Pittsburgh Glass Center to start planning your visit! You can learn more here.
As a public access studio, everyone is welcome to visit during our open hours. Visitors can use our self-guided tour brochure, supplemented by our exciting new mobile guide in the free Bloomberg Connects app, to explore the building, peek into our four studios, and see contemporary glass art in the Hodge Gallery.
If you are seeking something more, check out our classes and events or schedule a private activity.
Program Cost: Suggested $5 donation
Pittsburgh Glass Center (PGC) is internationally recognized as one of the United States' premier glass facilities. Learn the specifics about our four studios, the equipment and space available in each, and procedures for rental and open studio participation.