AK Kurtz is often the first person you meet when you walk into Pittsburgh Glass Center (PGC). Now through February 28, you can view their screenprinting and glass sculptures across the street at Commonplace Coffee in an exhibition presented in conjunction with Evolve Coaching.
As the Visitor Services Coordinator at PGC, AK works with a team of friendly folks at our front desk to ensure a warm, welcoming, knowledgeable, and enthusiastic experience for everyone who walks in the door, from first-time visitors and novice glassmakers taking introductory workshops, to experienced studio renters, resident artists, and everyone in between.
AK, a Michigan-born artist living in Wilkinsburg, PA, has a dedicated daily drawing practice. They indulge in self-portraiture as a way of coming to terms with body image in the context of chronic pain and disability, and love any opportunity to play with new, unexpected art materials. Pigeons as self-portraiture are a way of exploring the many facets of self for AK.
Screenprinting and glass casting are two seemingly unrelated mediums that AK is currently drawn to, but both techniques indulge in a concept of replication, imprints on the world, texture, and design.
"Both are also physically rather taxing, and with the chronic pain and mobility issues I experience, they can often seem insurmountable to indulge.
"I am continuously seeking ways to manage freedom in time and strength. When I screenprint, I take my time in the studio. The process itself requires time (coating screens and exposing them). I can set up screens one day; push ink through a few screens the next, and wait until the next day or a week later when my body recovers to do the remaining layers. I might not be able to get as much done in a visit to the studio as the next person, but it's a chance for me to experiment with my own threshold for work as well, " AK said.
AK considers themself a novice at glass casting, but they love the community at Pittsburgh Glass Center where they are learning to do this work. "As a disabled artist, it's really important to me to be able to balance my independence in art making (ideas, execution of materials, giving myself a chance to try it out and see what variations might work) with being able to rely on a supportive team to move materials like glass and plaster, bend down into kilns, or pour molten wax," they said.
If you'd like to see more of their work, visit our neighbors at Commonplace Coffee, across the street from PGC. Then pop into PGC and meet the artist. You can follow AK's work on Instagram @divine.space.doves.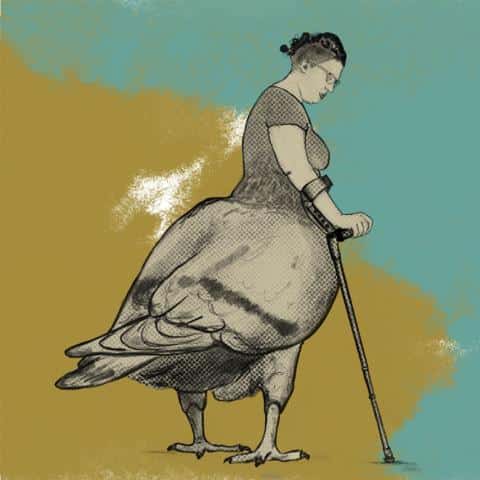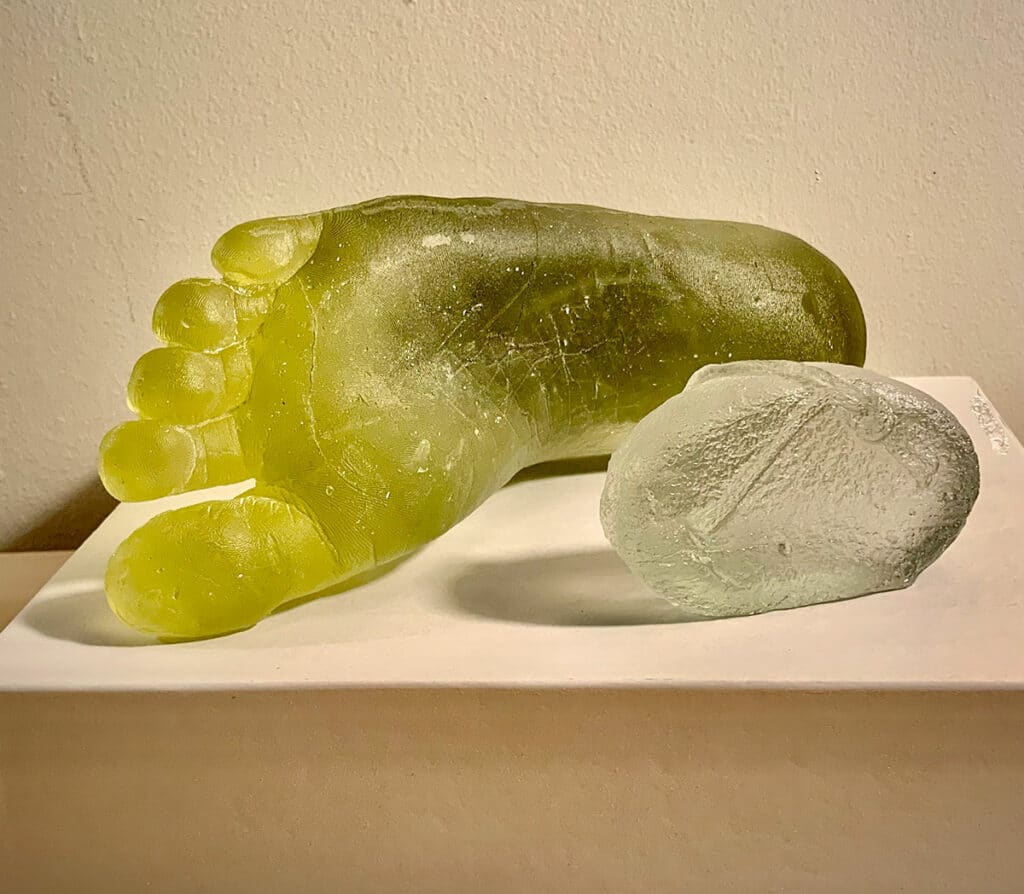 AK Kurtz Artwork at Commonplace Coffee
Presented in conjunction with Evolve Coaching
On view through February 28, 2023
5467 Penn Ave. 
Pittsburgh, PA 15206
Monday–Friday 7am–5pm
Saturday–Sunday 8am–5pm