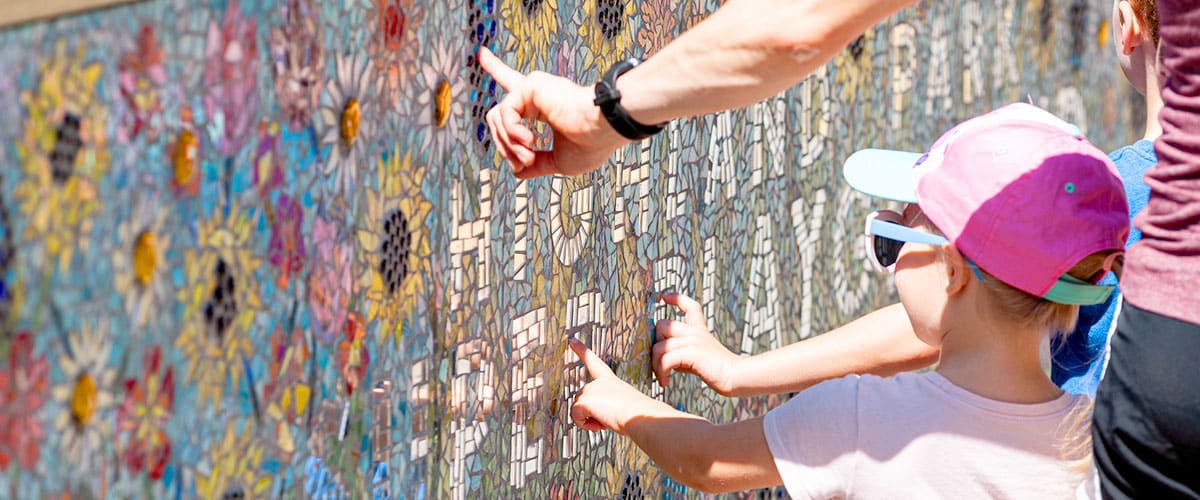 Public art is just one way Pittsburgh Glass Center brings the art of glass out into our community. With our most recent large-scale project, our artists collaborated with the Highland Park Community Council on the redesign of the Highland Park Super Playground. According to the Highland Park Community Council's website, "the goal was to make a playground that will be imaginative, interactive, nature-based, and inclusive for all ages and abilities." PGC artists and staff spent the summer creating collaborative glass mosaic projects with the community that would reflect this goal, which were incorporated into the new playground.
This past May, we invited community members to design a glass mosaic flower to be included in a 2.5' x 12' mosaic sign, which now greets visitors at the entrance to the park. A total of 166 brightly colored flowers in various shapes and sizes surround the name of the park—all composed of glass pieces. Visitors can use this map to discover who made each flower or letter on the sign. Interested in trying glass mosaic art at home?We have special-edition Glass-to-Go mosaic kits available at PGC for those who want to try their hand at making a mosaic flower in the same style!
Additionally, the Highland Park Community Council collected submissions for small mosaic designs from community members. Twelve drawings created by children ages 4–11 and one school teacher were chosen to be reimagined in glass. Artists at Pittsburgh Glass Center closely followed the original designs to make the mosaics, and these will soon be installed around the playground as "hidden mosaics" for children to discover as they explore the space. The mosaics are encased in epoxy resin to make them safe for play.
The Highland Park Super Playground officially reopened with new equipment on Saturday, August 27, 2022, but the playground has been around since 1991. We are grateful to have been a part of their redesign!
by Odessa Patmos, Pittsburgh Glass Center Intern