Did you see our mobile glass studio Hot Wheels on KDKA last month? It was a blast to be on TV and share live glassblowing demonstrations with Mikey Hood, lifestyle and entertainment host on KDKA's "Pittsburgh Today Live."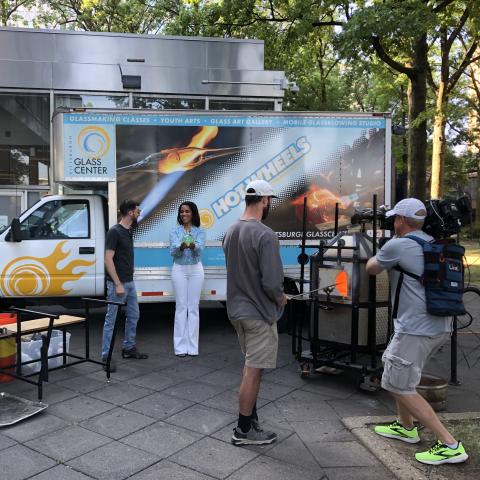 Hot Wheels traveled all over this summer from the Three Rivers Arts Festival to Uniontown, the Hill District, Monroeville and more. Even though we say that Hot Wheels can popup anywhere, anytime, it takes a lot of behind the scenes work to bring Hot Wheels out into the community.
Sam Spees is the wiz behind the curtain that makes every Hot Wheels appearance run smoothly. Sam makes sure we are on time and not double booked (Hot Wheels is very popular!) He also ensures that there's gas in tank and no flat tires, but that's just the beginning.
Inside the truck is a small glass studio including a furnace, bench, and many tools that all must be ready to go. The furnace runs on propane so aside from gas in tank he also makes sure we have propane to fire the furnace.
Once the truck is ready to go, a team of artists sets off for the event often before the sun even rises. It takes about 4 hours to fire up the furnace and melt the glass for a demonstration. If your event starts at 9am for example, Hot Wheels is on the road at about 4am! Once Hot Wheels arrives, the team unloads all of the equipment, connects the propane, fires up the furnace, and the warm up begins. It takes time for the furnace to reach 2,000 degrees when the glass is fully melted.
The team works throughout the day blowing glass, making small sculptures, goblets, vessels, and more. When the day is done and while the furnace is still hot, the team empties all of the hot glass out of the furnace and into stainless steel containers so that they can reuse this glass at the next event. If the glass cools in the furnace, it will expand and crack the tank.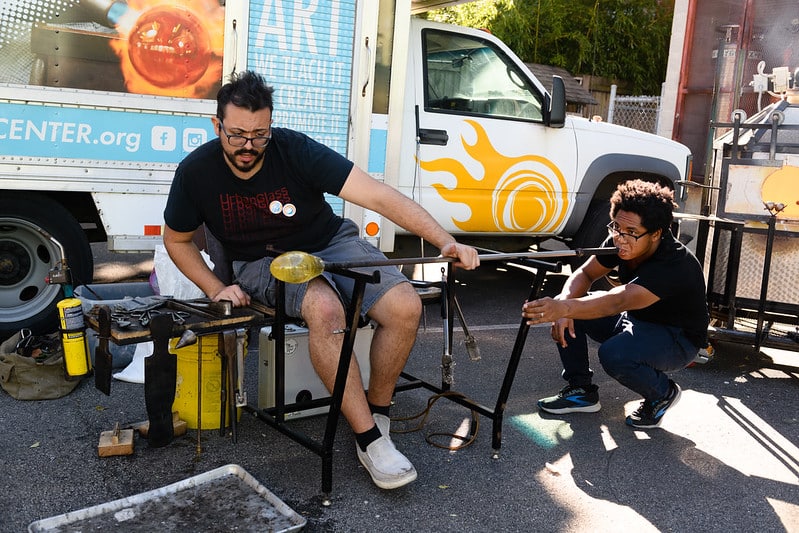 Sometimes there are fun surprises at the end of the day. You might see how far hot glass can stretch and learn how it is similar to fiber optic cable or see how big can you blow a glass bubble before it breaks. Amazingly the glass at that point is like cellophane! Crazy fun!

Once the furnace is empty, they wait again. The furnace must cool enough that it can be moved back into the truck and taken safely back to PGC. The cool down takes another 3-4 hours. It's a long day, but we love to share our passion for glass.

Hot Wheels is still on the move, catch us at these upcoming events:
Hot Wheels is made possible by a grant from the Emma Clyde Hodge Memorial Fund in memory of L. Van V. Dauler, Jr.