At Pittsburgh Glass Center, we offer American Sign Language interpretation to help facilitate our live demonstrations. However, translating the names of the materials and processes used at the demonstrations can be an unexpected, yet fun challenge for interpreters.
ASL is a language that is constantly evolving due to factors such as cultural differences and shifting social norms. According to a New York Times article, some people make their signs smaller because they have gotten used to signing on phone screens. There are also generational and cultural differences in the signs used for certain words. Additionally, the rise of social media apps has made it easier for people to share the signs they use and adapt to the signage of others.
Michelle Fischetti, a Sign Language Interpreting Professional, has been interpreting at our Hot Jam monthly open house events since 2016. According to Fischetti, The Registry of Interpreters for the Deaf has only been around since 1965. Because such cohesion within the ASL community is relatively new, there is a lack of signs for things such as new technology and, of course, glassblowing tools. "When a specialized field doesn't have Deaf experts working in that field, it is hard to know how to speak or sign about that field in ASL," she says.
However, interpreters have found a way to communicate despite the lack of clear ASL translations. Kaylin Andryshak, another Sign Language Interpreting Professional, enjoys interpreting for Pittsburgh Glass Center because, she says, "it allows me to 'play' with the language and try to figure out how to make the information visual. It's a lot of using shapes and making your hands into the items that [glass artists] are making." Fischetti agrees that "after a couple of times, an interpreter can be comfortable with the jargon and spelling of the tools."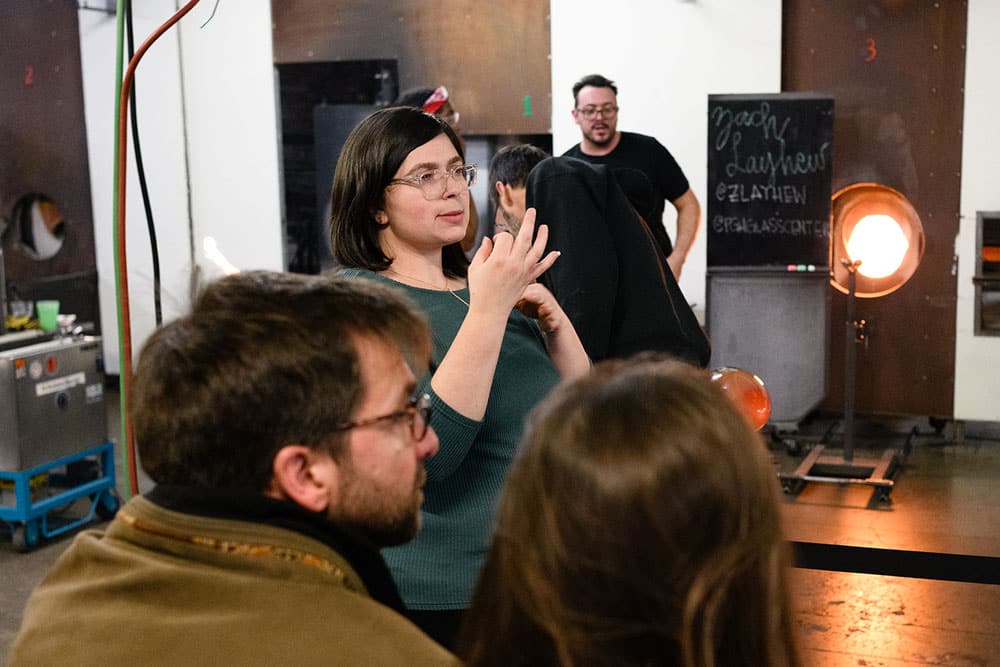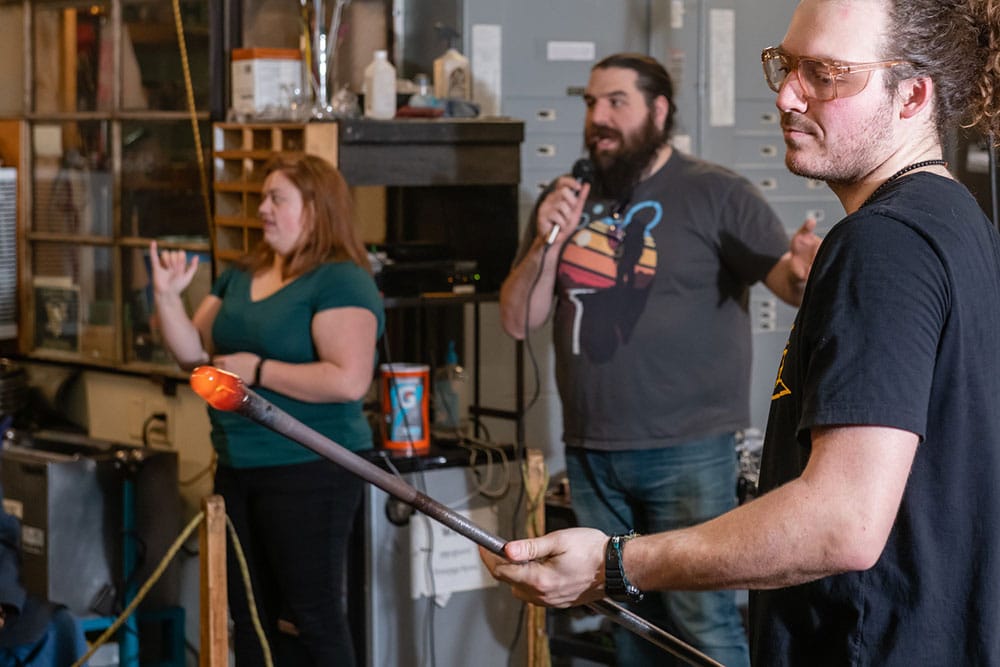 Luckily for new interpreters at PGC, the glass art community is ready to help. Artists can show interpreters the various tools they plan on using before the demonstration starts. Interpreters who are more familiar with the process, such as Fischetti, are able to share some words that might come up during the demos and which signs will translate best.
Despite the challenge of signing unfamiliar terms, interpreters at Pittsburgh Glass Center find the experience positive and stimulating. As Fischetti puts it, "if the audience has fun and learns, we have fun while we are interpreting."
By Odessa Patmos, Pittsburgh Glass Center intern
Pittsburgh Glass Center provides an American Sign Language (ASL) interpreter at public events, including our monthly Hot Jams open houses from 6–9pm every first Friday.
We are committed to providing an environment that is inclusive and welcoming to everyone. If a special accommodation can help you fully participate in our programs, please contact Olivia Hughes.