Pittsburgh Glass Center and the Carnegie Mellon University Entertainment Technology Center (ETC) have launched the first virtual glassblowing experience. PGC worked with a team of ETC graduate students over 15 weeks to design a virtual experience that educates, engages, and inspires middle and high students about the glassmaking process. 
This first-of-its-kind virtual reality educational and creative experience will be used to: 
Expand access to glass education beyond the walls of the PGC facility, 
Educate young students about glassblowing, 
Generate appreciation and excitement for glass,  
Enrich the programs that PGC currently offers,  
Prepare students before they step up to the 2,000-degree furnace. 
"As a truly interdisciplinary program since its inception nearly a quarter of a decade ago, the ETC is thrilled to develop a project alongside the experts at PGC that fuses cutting edge technologies with a truly historic art form which can hopefully spark interest and curiosity around both mediums. We look forward to continued collaboration with PGC in building an expansive learning ecosystem sharing all the amazing resources our region offers," said John Balash, ETC Director of Educational Outreach .
To experience virtual glassblowing, a headset is worn that projects a 3D virtual hot shop and makes the participant feel like they are immersed in a glassblowing studio. Blaze, an animated flame and PGC's mascot, guides participants through the steps of making a blown glass orb from holding a blow pipe and gathering molten glass to adding color and knocking the orb off of the pipe. 
The ETC team called Prism Beam includes Ariel He, co-producer & UI/UX designer; Jialu Sun, programmer; Aldora Wang, co-producer, experience designer and artist; Kristin Wu, programmer; Laura Yang, lead artist; and Pan-Pan Gou, sound designer, composer; along with ETC instructors Shirley Saldamarco and Scott Stevens. Prism Beam started its research by visiting PGC and taking a glassblowing workshop to understand the skills and equipment, and tools needed to blow glass.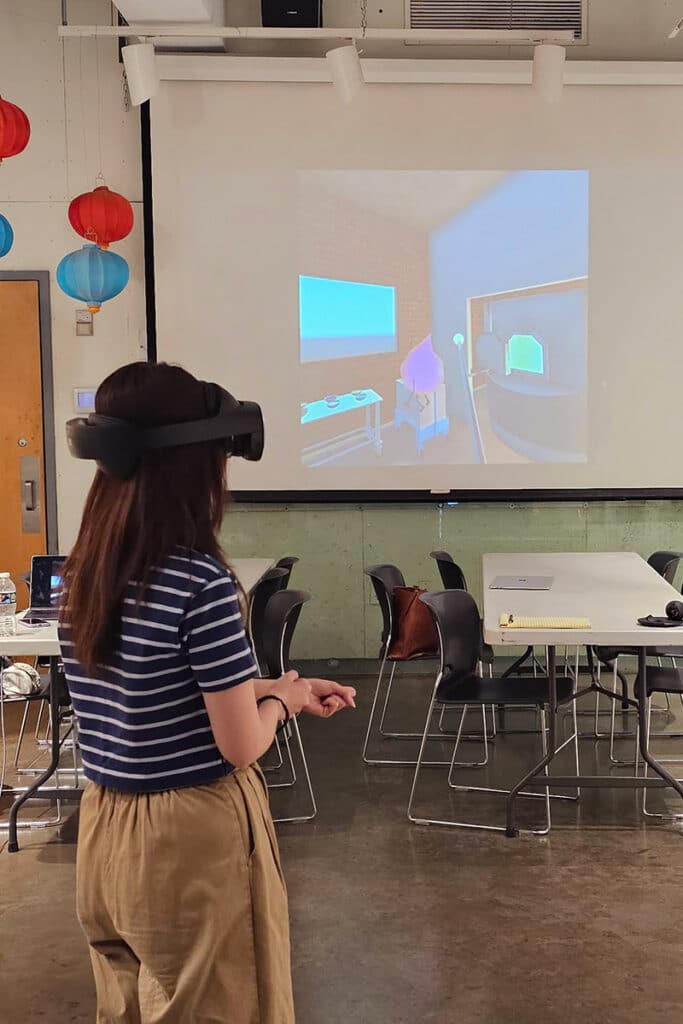 "We're thrilled to be working on a project that not only exposes us to the beauty of glassblowing but also educates young people on glassmaking as a form of art, fostering their appreciation for glass artists. Despite the challenge of recreating the physicality of molten glass in a VR headset, we successfully developed a visually and acoustically immersive VR experience that represents the key steps in glassblowing within just 15 weeks. We hope that the use of VR can let the art of glassblowing touch on more youth's lives, allow them to experience the craft and beauty of glass in a safe, controlled environment, and ignite their passion for glass with the heat and flame of a virtual Hot Shop," said Prism Beam. 
Pittsburgh Glass Center will start using the new technology this summer in its Teen Boot Camp and then in schools this fall.    
"This is an exciting use of technology based on tools and techniques that have been practically the same for thousands of years. I'm thrilled about the potential to reach more students and spark their curiosity for glass and the glassmaking process before they even visit a glass studio. This is just the beginning! We're looking forward to gathering feedback from students and using this to expand our virtual offerings and even create more technology-based teaching tools in the future with the ETC," said Valerie Bundy, PGC program director.   
Pittsburgh Glass Center's partnership with ETC was possible with support from Benedum Foundation to bring deeply educational experiences like those found at the PGC to rural communities in Southwestern Pennsylvania and West Virginia. 
ABOUT CARNEGIE MELLON UNIVERSITY ENTERTAINMENT TECHNOLOGY CENTER
The Entertainment Technology Center (ETC) is the premiere professional graduate program for interactive entertainment as it's applied across a variety of fields. Our unique, two-year, Master of Entertainment Technology (MET) degree was founded as a joint venture between Carnegie Mellon University's School of Computer Science and the College of Fine Arts. The MET is currently considered a terminal degree.
The ETC was founded in 1998 with Randy Pausch and Don Marinelli as the co-directors. The faculty and staff worked together to articulate our academic mission which focuses on educational goals and creative development. And we also created an R&D Agenda exploring transformational games, innovation by design and interactive storytelling. Throughout, we work to prepare students to graduate as creative professionals. Learn more at www.etc.cmu.edu