Pittsburgh Glass Center is recognized among national and international glass artists as having one of the world's best-designed and well-equipped Hot Shops. This 2,560-square-foot space accommodates both large and small teams with ample annealing space to facilitate both rapid production and large-scale work. Two 1,000-pound-capacity, state-of-the-art Wet Dog furnaces run 24/7 at a temperature of 2,100˚ F to continually provide quality clear molten glass. There are eight workstations, each with a glory hole and shaping bench. Many esteemed glass artists, including Lino Tagliapietra, Dante Marioni, and Davide Salvadore, have worked here.
Two 1,000 lb. Wet Dog invested pot furnaces
Full range of hand tools, pipes, and punties
Six 12″ glory holes with pneumatic doors
One 18″ glory hole with pneumatic doors
One 24″ glory hole with barn doors
Two mobile gas-powered garages
One mobile powder booth
Eight benches with compressed air, oxygen, and gas
Nortel Ranger, mid-range, and multi-mix torches
Exact "Fluffy" torches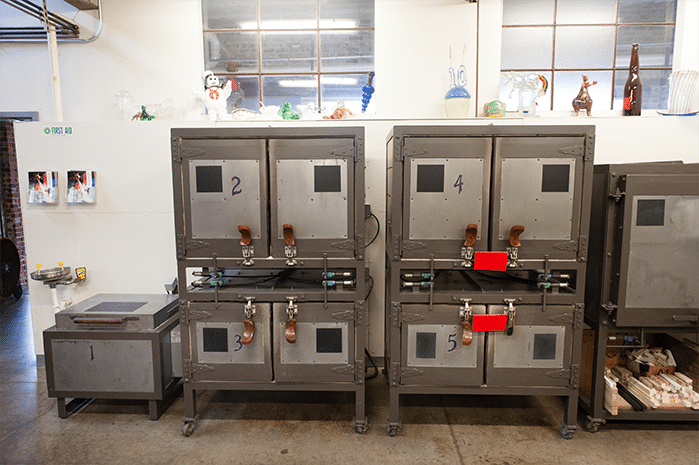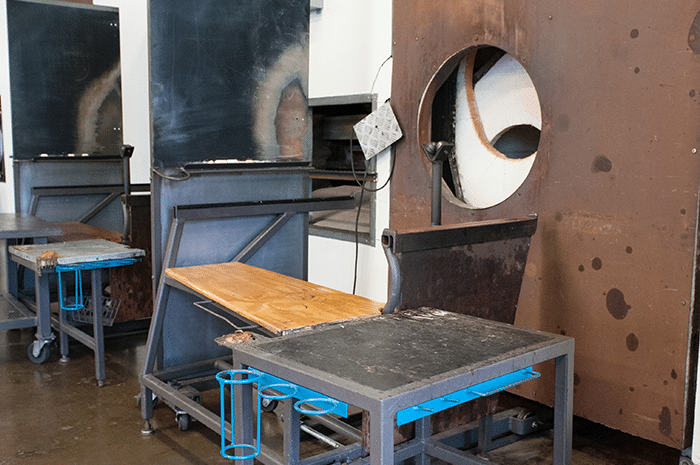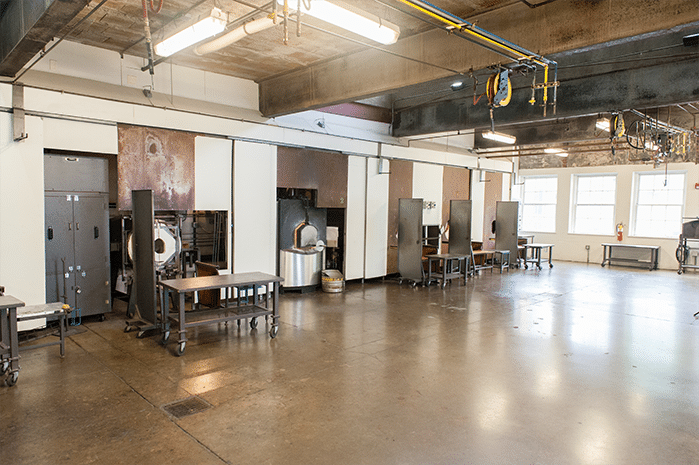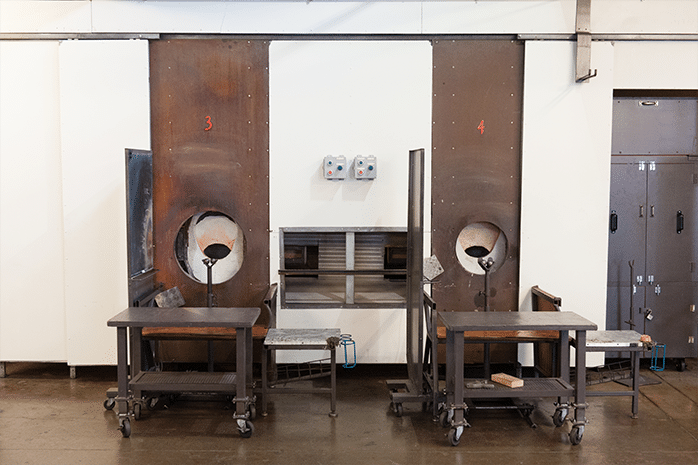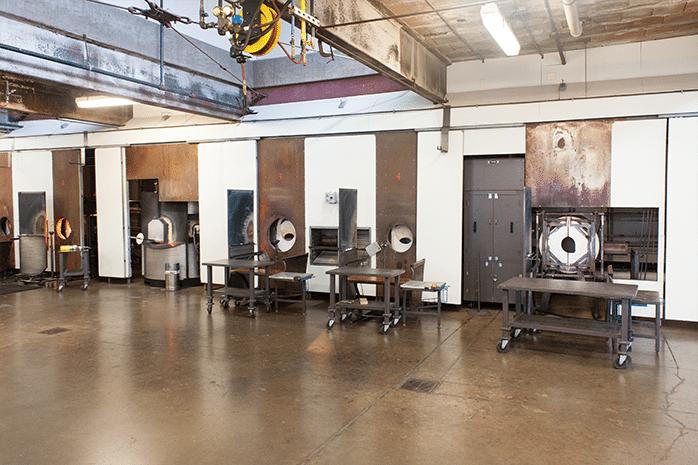 There is a limited capacity in all studios and rental times vary. See the calendar below.
Since our studios are busier than ever, is important that you email us ahead of time to reserve studio space. Please include the requested studio, date, time frame, and any additional equipment that will be needed for the rental session. Prior to submitting a rental request, please make sure you have an active membership and a credit card on file for payments.
To schedule Hot Shop rental email us.
Small Hole (12" x 24") $35/hour (2 hour minimum)
Medium Hole (18" x 46") $40/hour (2 hour minimum)
Large Hole (24" x 46") $60/hour (4 hour minimum)
Torch Only $15/hour (30 minute minimum)
Complimentary use of pipes/punties, hand tools, and blocks. Charges for all other extras still apply.
These are the charges that you may incur during rental time. For every 2-4 hour session, 25 pounds of glass, half a small annealer, and complimentary use of studio pipes, punties, basic hand tools, and blocks are included. All extras are subject to availability. Large quantities of glass usage, extra annealer space, and long annealing cycles may incur extra charges. Pricing is subject to change based on usage amounts.
Mapp Gas Torch $5/session (excessive use)
Propane Torch $2/hour
Oxy/Propane Torch $3/hour
Mid-range Torch $5/hour
Garage/Hot Plate $3/hour
Pastorelli/Forks No charge; damage fees may
Pickup Oven $10/session
Extra Bench $10/session
Extra Half Annealer $15/session
Extra Standard Annealer $25/session
Big Annealer $35/session
Extra Long Cycle +$4/hour