October 2, 2020 – January 24, 2021
"The United" examines the incredibly complicated topic of immigration in a time when immigration systems are in crisis — affecting many of us closely, as members of diverse communities, as descendants of immigrants, or as immigrants ourselves. The exhibition with artwork from 12 artists from Belgium, Northern Ireland, Russia and the US explores the possibilities for proactive engagement with immigration issues, reconfiguring the status and function of art from passivity to active agency.
Curated by Johanna Lasner.
Additional curation by Jaime Guerrero and Karla Lamb.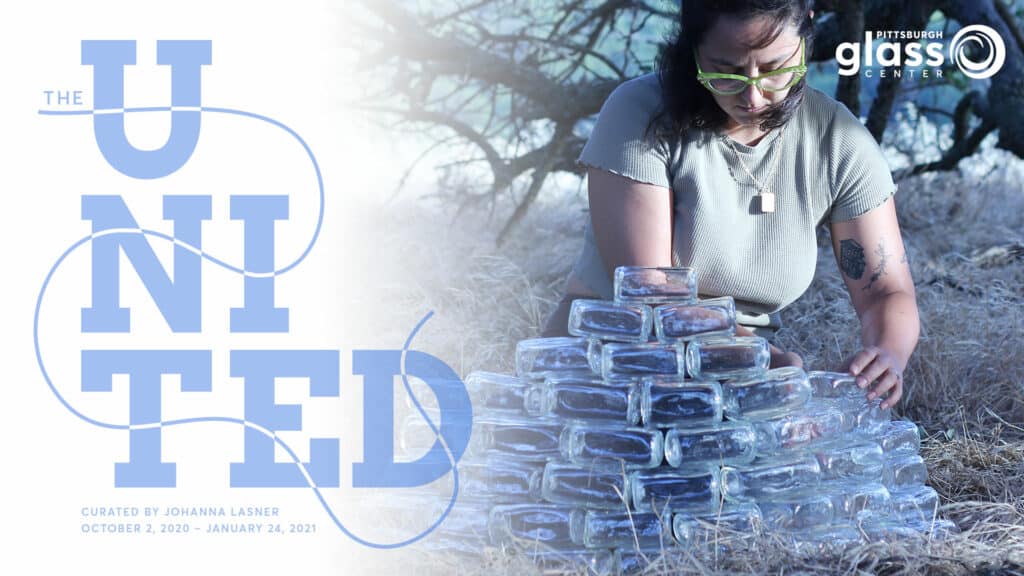 While seeking a global understanding of the impact of the pandemic, we are also experiencing a number of core issues—such as labor conditions, migration, xenophobia, and racism; which, far from being new, became blatant and more urgent amid the pandemic. The United presents extraordinary and poignant glass art by twelve artists from varying practices and geographical perspectives exploring the complex topic of immigration. (click below to continue reading)
Curatorial Statement Continued
Immigration systems are in crisis, affecting many of us closely, as members of diverse communities, as descendants of immigrants, or as immigrants ourselves. Presented at a time that coincides with presidential and congressional election campaigns in the United States, the exhibition directly responds to this historical moment by examining the ways in which power is constructed, broadcasted and enacted. However in contrast to the narratives of oppressive power associated with the movement of people, the exhibition mainly considers a message of resilience, hope and resistance, in which power is associated with reciprocity rather than domination. We hope to inspire and come together as an interconnected active community through participation, by being responsive to current concerns; and even more so, by supporting and celebrating diversity.
Migration is fundamentally the story of the human race from its origins to the present. It is an integral aspect of life, it is part of our human experience. Migration has ranged from journeys of a few miles to epic travels across oceans and continents. Drought, plagues, floods, famine or other natural disasters have triggered forced migration. Mankind has provoked unwilling migration through the formation of empires and colonies, horrific practices of slavery, genocide, human trafficking, war and exile. With forced migration you do not have the luxury of making choices. Generally though, people choose to emigrate to survive. They move in search of food, towards life opportunities, the pursuit of dreams, to escape from danger and death, to find reasons to hope even in the most adverse circumstances. When you talk about immigration, you are talking about the second half of a process that begins when people decide to leave their homes, usually driven by often desperate reasons.
Many means of migration are similar to ancient methods of travel. More recently, movement of people has occurred via containers, by foot, rickety boats, and trucks. Attempts to migrate have also included hiding in the wheel wells of airplanes. As movement is restricted by the building of man made barriers including lengthy walls, razor wire fences, land mines, and technology, people turn to those who possess the resources to move them around these barriers, but then sometimes tragically find themselves in facing the consequences of debt, and bondage. These circumstances may be nothing though compare to the risk and fragility of life. Nation's borders have become spaces of violence and injustice, where unlawful detainment, deportation and separation exist, which unfortunately often leads to an even harsher reality than one could have ever imagined. On the other hand, the immigration experience has been of great social, economic, and cultural benefit to many countries throughout the world. The immigration debate is a timeless one. It can be divisive. There are a myriad of ethical issues and questions which should be discussed. Increasingly, however, immigration has become a topic of intense public debate, with significant political and social disagreements over its place in the human experience. Immigration affects both the communities that migrants leave and the communities where they are received. How people interact with these types of sensibilities, and are affected by their environment can be explored by closely linking to knowledge of self, to grasping one's position in the larger scheme of things, including one's community, and to securing a confident sense of identity.
Memory, history, and sociopolitical-cultural constructs coexist within the same space of art and identity. These intersections only corroborate nature's inextricable links to an interdisciplinary world, where we can no longer isolate art from colonization, science, economics, politics, nature, culture, technology, legislature, human rights, essentially the human experience. This project, The United, delves into the question of how critical art may answer to the fabrication of an immigration system that addresses inequality, human rights violations, and exclusion.
When discussing ethics in the context of immigration, it is important to remember first and foremost that migration is about the movement of people. Because the ethics of immigration highlight the tension between individuals, nations and cultures, these discussions should always begin and end with the acknowledgement of the humanity of those who are moving and those who do not move. The human condition is complex, as are the reasons for migration. The United is a project conceived within humanitarian values, as we want to acknowledge and identify immigrant groups or the subject of immigration in our community, country and the world. Humanitarianism as a pro-social orientation, is a force of responsibility that mobilizes empathy, superimposing a relationship of benevolence over the routine and intended character of enforcement violence, and the darker system of racial regulation of movement and labor to which immigration law contributes.
This project intends to remind us of the power of humanitarian discourse, which is such that even in the context of the open display of coercion in immigration law, one must respond to humanitarian initiatives. Regardless of our limitations, one may argue, or at least a connection can be made, to the start of the thought process, and a possibility of emplacing more diverse ways of belonging to and participating in our city, while the world's future brings an opening of it's pathways. The subject of immigration is timely and essential if art is to remain among the few public hubs where differences in culture, ideology and history can coexist. Information and exchange on immigration issues must be honest conversations, where the interests, agendas, and concerns of all members of the affected communities are addressed in the context of the collective humanity. We hope to create opportunities for reflection, dialogue and discovery, where awareness can become a form of resistance and luckily generate new content and propositions for more robust, fair and reality based immigration legislation, which leads towards a more equitable society to improve human dignity, social justice, and planetary wellbeing.
For these artists, their own migrations and those of their ancestors shape their identities and the art they produce. They reflect on presence and belonging over contention and the search for origins and establishing roots. This is the right to inhabit a space, and not just to consume it as an experience or remain labeled by their condition as immigrants. With the notion of home, the artists examine trauma and intergenerational hurt and attempt to reconstruct an influential place for healing, inspiration and freedom. Glass is a graceful medium full of contradictions, vulnerability and transparency. Glass has an important place in Art, or vice versa, "Art is the magic mirror you make to reflect your invisible dreams in visible pictures. You use a glass mirror to see your face: you use works of art to see your soul" (George Bernard Shaw).
Immigration is in dire need of reform, of a more compassionate and thoughtful understanding of how to handle cross-border human mobility worldwide, that is sensitive and respectful to well-meaning migrants, permanent or temporary, whatever their reasons for wanting to move. What does it mean to have a safe, humanitarian and orderly migration system with responsive laws that respect and maintain human dignity? The hope is that any discussion will be open and creative in order to promote an ethical response to immigration in the world today.
Let us be proud of our immigrant heritage and honor our longstanding moral leadership in providing support to migrant and refugee populations around the globe. We invite you to join and share the vulnerable and victorious stories of strong, resilient individuals and families striving to make a new home in an unfamiliar place.
—Johanna Lasner
Exhibition Guidebook & Images