February 3 – July 30, 2023
An exhibition of individual and collaborative artwork of the top three competitors from Season 3 of the Netflix series Blown Away.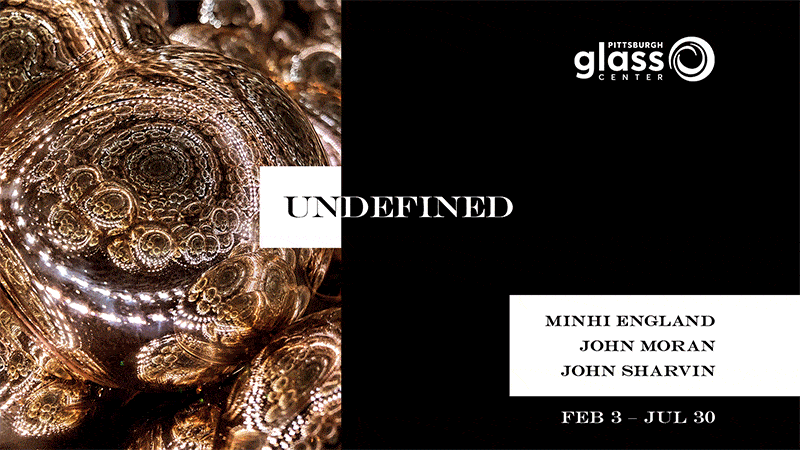 "You can't make either life or art, you have to work in the hole in between, which is undefined. That's what makes the adventure." —Robert Rauschenberg
Undefined does not equate to uncertainty. It is unspecified, unclear, and imprecise but it does not mean there is not a specific, clear, or precise direction. It is a place of transition, moving toward a future filled with the unknown and unexpected.
For each of the artists "Undefined" takes on a different meaning, connecting through threads of commonality. There are underlying themes of uncomfortable conversations pertaining to the human condition in each work. John Sharvin's work depicts themes of nostalgia and childhood wonder, through his use of miniatures, drawing the viewer to explore other worlds and escape into new universes. Minhi England's work illustrates the evolving perceptions encountered in grief and mourning; mirrors, distorted and multiplied within a warm domestic setting, encourage facing the inevitable encounter to loss with compassion. John Moran's mixed media installation explores the blurred lines between perception and our social media driven reality, through layering classical motifs and contemporary ideas that celebrate the absurdity of existence.
In 2021, John Moran, Minhi England, and John Sharvin were gathered in a backstage production set with seven other familiar faces. Each participant was invited to compete hoping to find new opportunities and to open creative pathways into new beginnings. Five weeks later, these three were the remaining finalists in the hit Netflix competition series, "Blown Away," Season 3. Though John, John, and Minhi initially came together as competitors, their shared experiences on the show influenced comradery and mutual support. Since the premiere of the series, they have stayed in touch artistically through Pittsburgh Glass Center's Artist Residency program, giving them an opportunity to collaborate as artists. This collaborative exhibition contradicts the notion of competition in the glass world.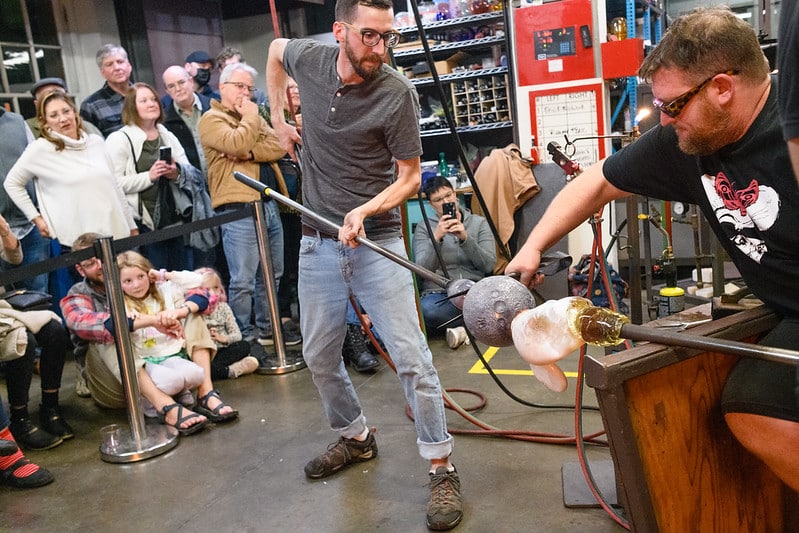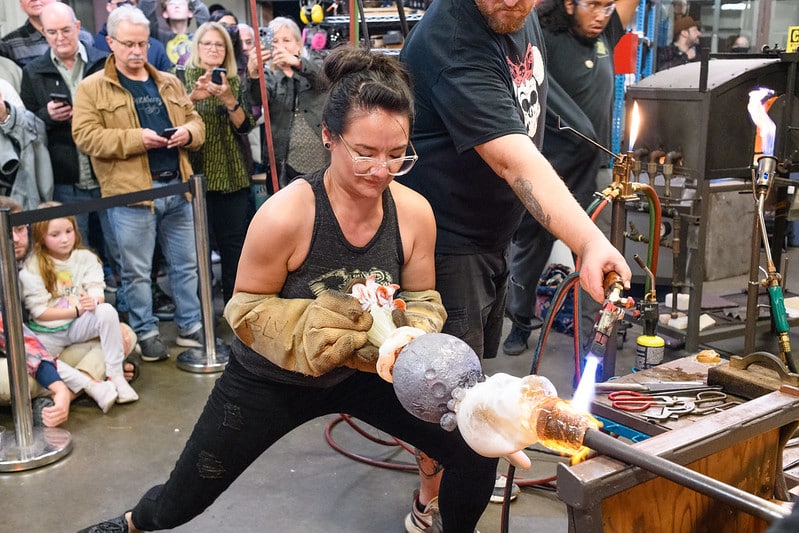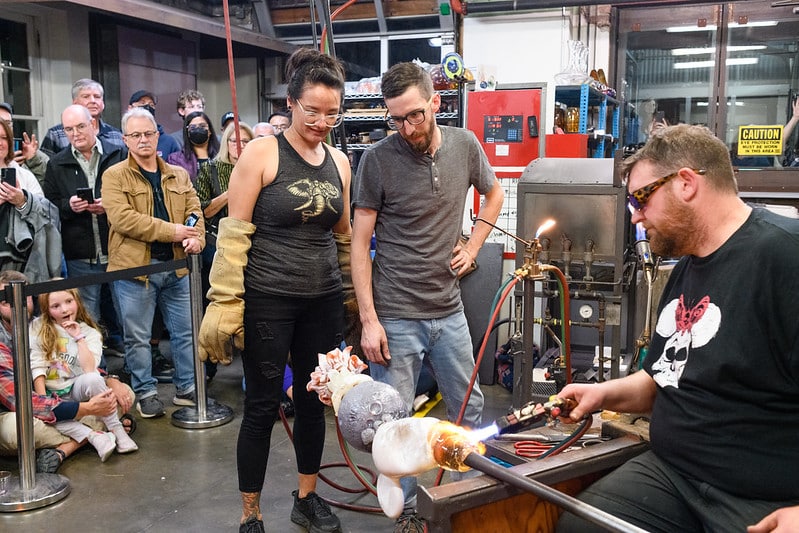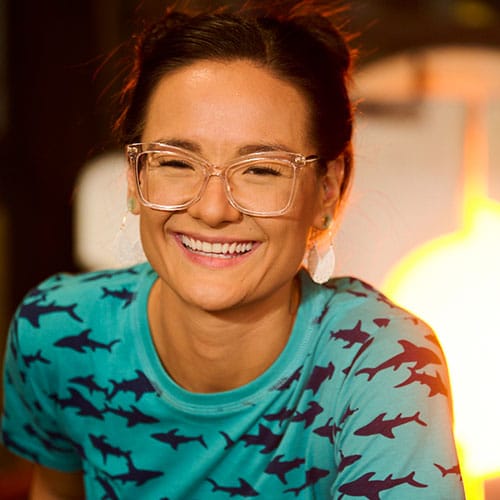 MiNHi England is a Seattle based multi-disciplinary artist working primarily in glass. She is a first generation Korean American, brought up in a military family by a Korean mother and an American father. Though she was born in Landstuhl, Germany she was predominately raised in upstate New York where she earned her BFA from Alfred University. During her time as an undergraduate, her art practice shifted from illustration and painting to a concentration in glassblowing and metal casting sculpture. Shortly after graduating in 2010, MiNHi moved to Seattle, WA yearning to make a home surrounded by diversity and culture. She has since been working as a professional glassblower, designer, and independent artist throughout the greater Seattle area.
Influenced by mass production and the hardships of poverty, she finds solace in creating in multiples, with reiteration, and pattern. Drawn to the unique properties of molten glass, MiNHi's sculpture and design personify the material, giving her work permission to embody "self." Her current art practice focuses heavily on her recent young widow status, as she uses art as a medium to process loss, grief, and life-altering transitions.
MiNHi England has been awarded several artist residencies such as the Hauberg Residency at Pilchuck Glass School, the Hilltop Artists Residency in Tacoma, WA, Pittsburgh Glass Center Residency and has shown at Bellevue Art Museum. Presently, she has an upcoming immersive gallery installation set to open March 2023 at "Method Gallery" in Seattle. She is featured as a finalist in the Netflix Series, "Blown Away" in Season 3.
The human being is a social creature by nature–our lives are built upon connection, hierarchy and collective functionality. When the world coined the phrase, "social distance," many of us remember the toll these actions placed on mental well-being. On the other hand, surrounded by people and standing under a spotlight in front of a large audience can be similarly strenuous and daunting. Every choice, consideration, and belief, coincides with the context of our environment and in turn, frameworks our behavior. In essence, we are molded by our surroundings.
My work explores emotional processes, the uncontrollable aspects of feeling, and how it reflects externally. Private thoughts are exposed as they transform into our demeanor. I utilize the mirror to reference the collision between the world as we perceive it and the world as it exists. For me, the mirror is a tool to merge the internal vantage point with external interactions. Sometimes even seeing is not always believing. Rather than flat, true reflections, the mirrors in my work are vaguely distorted, stretched and obscured just enough to be believable.
All too often, the mind is responsible for creating the most elaborate ruse, confusing and contradicting what we logically know to be true. This is particularly the case with a sudden change in day to day life. I have witnessed this deceit in the throes of grief and mourning for my husband's untimely death. The brain is wired to map and predict our surroundings and when someone disappears, our preconceived notion of existence does not fully register this adjustment. This creates an inability to grasp abrupt life-altering transitions. Days, months, and years may pass, but the pattern of expectation remains.
Logically speaking, instinct and the cycle of life is undeniable. Yet denial prevails. Truth can feel unapproachable, so the flexibility of perception is used as a way to cope. We believe what we need to in order to move forward. I've always operated in a place of absolutes, black and white. The way I've learned to survive has always been fight or flight, be here forever, or flee without turning back. Over time, I've slowly accepted the gray area, the in between of opposite extremes. Alternating between what was and what still remains, allows me to recognize this middle ground.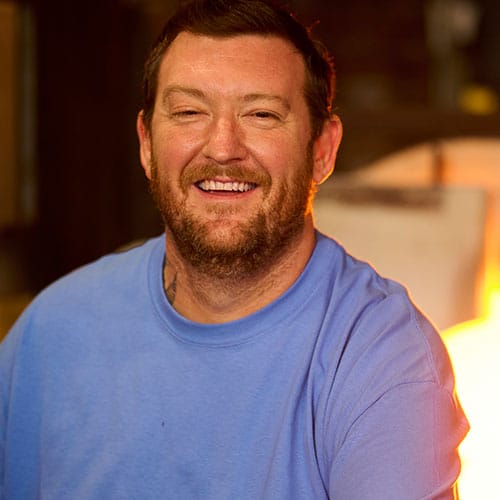 John Moran is a politically and socially engaged hot glass sculptor, mixed media artist, and all around nice guy. Originally from Philadelphia, John currently resides in Ghent, Belgium where he directs Gent Glas, a community glass studio he co-founded in 2014. The mission of Gent Glas is to build an inclusive community of artists working to introduce glass as an artistic medium to the public. He received his BFA from Tyler School of Art, MFA from Illinois State University, and recently completed PhD at Eugeniusz Geppert Academy of Art and Design in Wroclaw, Poland.
He has participated in several international artist in residence programs including CGCA at WheatonArts, S12, GlazenHuis Lommel, and STARWorks. His work has been exhibited in many galleries and museums across the United States and Europe, including Habatat Galleries, SiC! Gallery, Glasmuseet Ebeltoft, and Delaware Contemporary. His work is dedicated to his interests in politics, pop culture, social awareness, and contemporary art. He most recently participated in and won Netflix's glass competition show, Blown Away Season 3.
In our current social-media driven society, we constantly reinvent ourselves, creating content that illustrates who we are. We know that this content is based in reality, but we also know that it is not a depiction of reality, though sometimes that line becomes blurred. This became very apparent to me during the lockdown in 2020 and even more recently since participating in the competitive artistic glass-blowing reality TV show, Blown Away.
As a storyteller, my work is constructed from a series of anecdotes, references, and experiences. While I do draw ties to American pop culture, politics, and social issues, I do not do this arbitrarily. I attempt to illustrate how I see the barrage of consumerism, religion, and politics colliding with depictions of social injustice, secular beliefs, and popular culture. I myself am a product of all of these things. It is not necessarily an attempt at subversion, but more an attempt to reconcile, and in a way celebrate, the absurdity and hypocrisy of our perceived realities.
I work with a variety of materials to create figures and their environments, but I am most frequently drawn to sculpting with glass. As a hot glass artist utilizing mixed media elements, my aesthetic approach and material use is unique in contemporary art. I believe it is important to combine conceptual and critical thinking with beauty and craftsmanship, in order to crate works that engage the viewer and offer a place for dialogue and empathy. Each piece is often inspired by an individual narrative, but together they blend these stories to create a fantastical world based in the confusion of our own reality.
My work is not purely autobiographical, but my experiences and observations are the genesis of my ideas. Each piece is a reaction to a specific event, but is not an illustration of it. I pull from everything around me. My own political and religious views, art, books, movies, family, and popular culture culminate into layers of seemingly random references, multiple components, and a visual overload that mimics our daily experience. While each of the pieces in the submitted work differ in their narrative, they all share a common aesthetic, drawn from classical painting and sculpture, blended with contemporary references to consumer culture. I find this point of intersection key to creating my artistic world.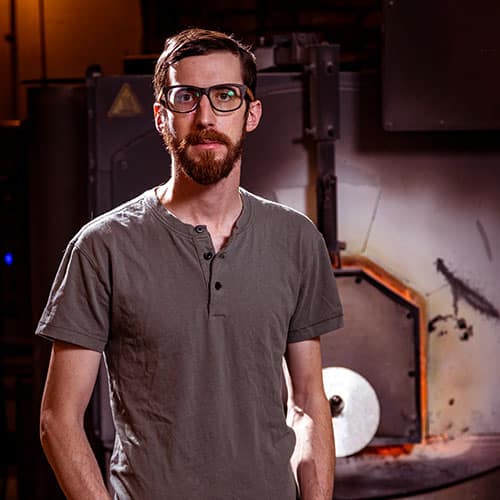 John Sharvin is an Ohio-born artist living in Pittsburgh, PA. He has been working in glass since late 2008 where he graduated from The Ohio State University in 2012 with a BFA in glass. After staying in Columbus for a few years working in galleries, doing public glass demonstrations and tutoring students, he then took a Technician Apprenticeship at the Pittsburgh Glass Center in 2014. From 2015-2022 he worked full time for PGC as their Studio Technician Manager. This job was a great blend of John's passions, building/engineering and art. Recently he was a competitor on the Netflix show Blown Away Season 3. Since the show he has decided to pursue art as a full time career.
He approaches life and his art practice with an optimistic and humorous outlook. His work explores the separation between the reality and the imaginary through the use of miniatures and glass sculpture. Creating these miniature landscapes draws the viewer into a new and intimate realm, reminiscent of a shadowbox or dollhouse. These dreamlike worlds create deceptive memories and locations for the viewer to reflect on. Recollection of a place or memory is often distorted through the lens of time.  When recalling past memories, he often wonders what is fact and what is fabricated. His work rides the line between humor, cuteness and authentic personality themes.
"I didn't feel like a giant.
I felt very, very small."
—Neil Armstrong
Outer space is a mysterious place, full of wonder and endless possibility. It has always been a place of escapism for me to explore my imagination and creativity. The vastness and mystery of the universe taunts me both with fear and wonder. I struggle with the unknown and endless possibilities of life, paralleling the key things I find so fascinating about the cosmos. There is still so much to be discovered in space which is one aspect that is so alluring. It's easy to get lost in the nothingness while simultaneously being overwhelmed with the infinite possibilities. The simple fact that we really do not know what is going on out there is astounding. My logical brain is always looking to make sense of the world and I get anxious and frustrated when there isn't an answer. Sometimes decisions don't have a correct answer. I am constantly investigating the nuances of what makes our world tick. These miniature worlds help me cope with that anxiety and bridge the gap between my love of outer space and my fear of the unknown. They provide me with an escape from reality while also helping me understand my identity and purpose in this world. The stars and planets represent more than just a night sky. They are part of a whimsical world, full of curiosity. Each planet is born from my personal life but are left without conclusion. This creates an atmosphere for the audience to investigate and discover, sparking inner childhood curiosity. Exploration into these worlds allows the viewer a glimpse into my own internal universe.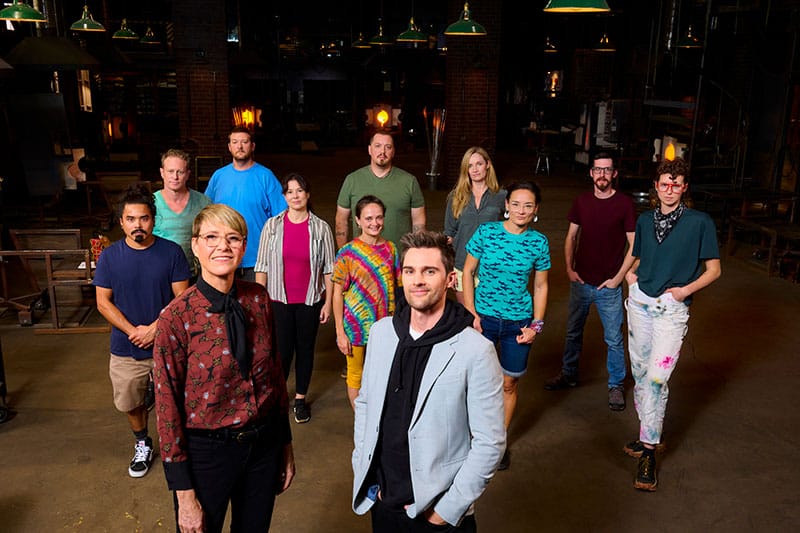 In this hit Netflix competition series, ten master artists turn up the heat in glassblowing sculpture challenges for the chance to win $60,000 in prizes and the title of "Best in Glass."
Popular science influencer Nick Uhas hosts the series alongside renowned glass artist and instructor Katherine Gray, who is the resident evaluator for the contestants' artwork. Professional glass artists serve as guest judges throughout the season, including Season 1 winner Deborah Czeresko.
The hosts deliver captivating challenges inspired by outer space, the circus, the Seven Deadly Sins and more. For each challenge, contestants must create an original piece of blown glass artwork. They begin by using chalk to sketch out life-size renderings of their imagined creations on the hot shop floor and then work with an assigned helper to prepare their works of art.
Each round concludes with a showcase and evaluators' critique of each piece, resulting in one declared winner — Best in Blow — and one elimination. If contestants don't blow away the evaluators (and the competition) with their concept, creativity and technical skills, they'll be sent home.
(via Netflix.com. Photos by David Leyes)