Over the past 20 years, Pittsburgh Glass Center (PGC) has grown to be one of the premiere glass facilities in the U.S, a vibrant contributor to Pittsburgh's thriving cultural landscape, and an integral member of the East End neighborhood.
Pittsburgh Glass Center cultivates an inclusive and welcoming environment that encourages everyone, from the casually curious to the master artist, to learn, create, and be inspired by glass. We share our passion for glass locally and globally to advance a more diverse, vibrant, and accessible glass art community.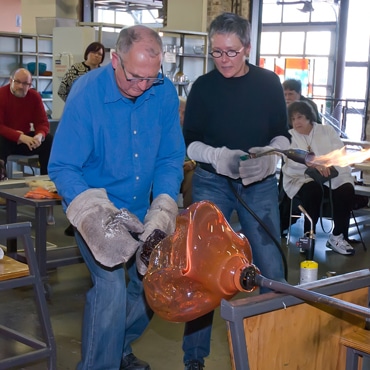 Pittsburgh Glass Center (PGC) was founded by local glass artists Kathleen Mulcahy and the late Ron Desmett (1948–2016), who shared a vision in the early 1990s: create an innovative glass art center that would cultivate community, foster economic growth, and thereby change the city. They'd seen how the power of art drove revitalization in decaying neighborhoods in New York City and northern New Jersey. They wanted that same positive dynamic for Pittsburgh.
As passionate glass artists working in Pittsburgh, Ron and Kathleen envisioned a place that would attract top artists but also welcome the novice artist and non-artists intrigued by glass.
Pittsburgh Glass Center opened in 2001. They worked for 12 years to bring the people together who would help make their dream a reality, including artists, foundations, community members, and glass enthusiasts.
Passion for Pittsburgh & PBC
Executive Director Heather McElwee, who celebrates 10 years as executive director in 2021, was one of those artists. She was recruited by Kathleen and Ron fresh out of college in 2001 to open Pittsburgh Glass Center and begin to grow a community of glass artists in Pittsburgh. She helped paint the walls, fire up the furnace and taught the first classes at PGC. She volunteered to help create new programs, recruit instructors, and attract students. As she spent more in the office and less time in the studio, she realized her passion for arts administration and Pittsburgh. Heather had experienced every task required to run this public access glass art facility until she moved into the executive director role in 2011.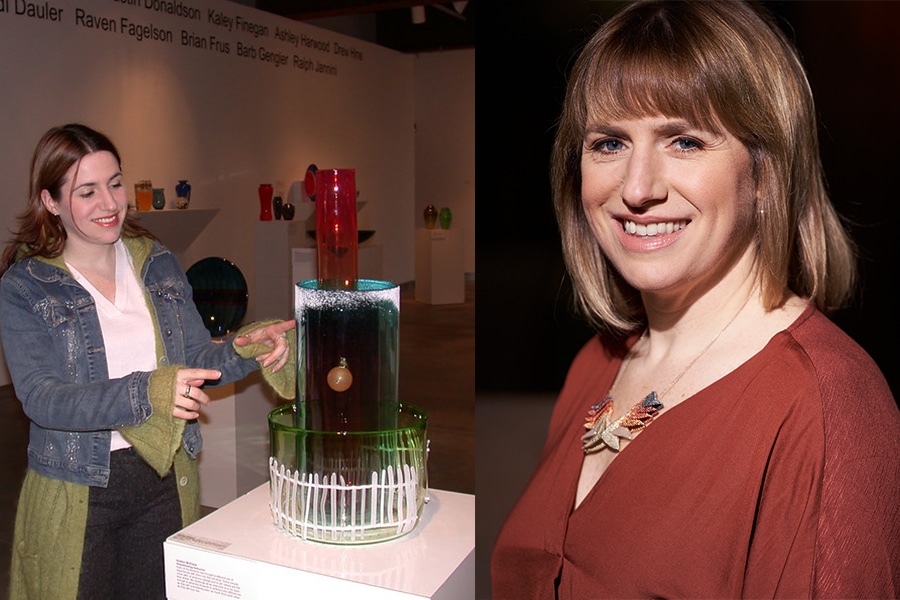 Avid glass collectors William and Maxine Block supported Kathleen and Ron's vision from the start. Their daughter Karen Block Johnese was also very involved. She secured the organization's nonprofit status in 1998, recruited the first board of directors, and helped raise over three million dollars to build the world-class facility. Randi Dauler and her late husband, L. Van V. Dauler, Jr., began supporting PGC in early 2001. They frequently supported capital projects at PGC both personally and through the family's foundation, the Emma Clyde Hodge Memorial Fund. Projects included the Emma Clyde Hodge Gallery, completion of the kiln shop, replacement furnaces and large reheating chamber, the mobile hot shop and most recently established the first endowed directorship, the Randi & L. Van V. Dauler, Jr. Executive Director chair at PGC.
With the help and support of the Urban Redevelopment Authority, Friendship Development Associates, and Bloomfield-Garfield Corporation, their vision was realized in 2001 when the Pittsburgh Glass Center opened its doors to the public.
Over the past 20 years, our state-of-the-art facility and talented staff and instructors have attracted:
More than 375,000 people to view our exhibitions, take classes or workshops, or rent our studios and equipment
Over 2,500 teen students to learn about the science and art of glass, with graduates of our SiO2 program receiving art scholarships at colleges such as Alfred University, Carnegie Mellon University, College for Creative Studies, Rhode Island School of Design, and Tyler School of Art
Over 100 artists-in-residence, including artists such as Lino Tagliapietra, Therman Statom, John Miller, Nancy Callan, Kathy Gray, and Eunsuh Choi to work and teach in our studios
Over 50 glass artists to relocate to Pittsburgh, making it the fastest-growing glass art community
48 Tech Apprentices to complete training at PGC, of whom half have stayed in Pittsburgh, buying studios and homes, and several have received honors such as a Fulbright Scholarship and Alloy Pgh residency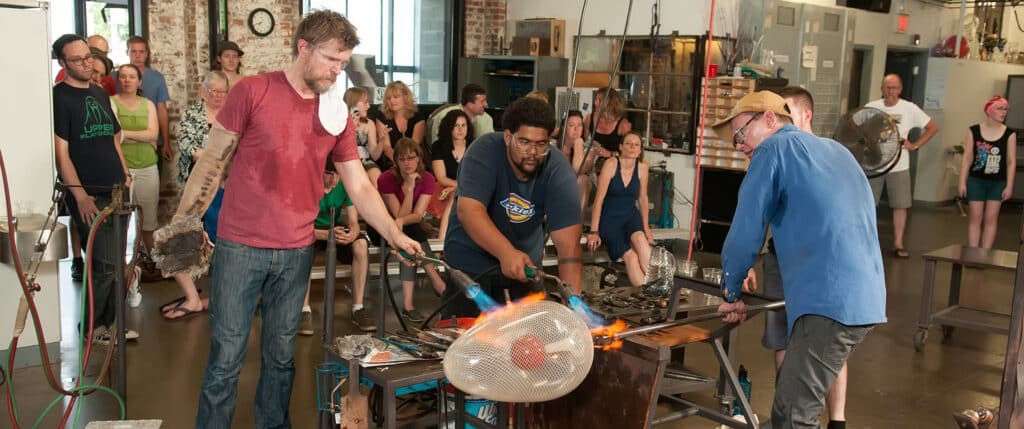 After 20 years we may not have perfect vision, but we are able to see our future clearly.
Glassblowing teaches us that it takes teamwork to make the perfect piece. Our success has relied on a multifaceted, passionate and devoted team of donors, artists, patrons, students, visitors and community members. Pittsburgh Glass Center would not be here without all of them.
We are looking forward to the next 5, 10, 20 years with much anticipation to:
SHAPE the next generation of glass artists and makers in Pittsburgh and beyond
GROW Pittsburgh's creative economy
CONNECT our region's history as a major producer of glass to its creative future through the innovative use of glass as art
Together we will cultivate an inclusive and welcoming environment that encourages everyone, from the casually curious to the master artist, to learn, create, and be inspired by glass.