The Netflix Original hit glassblowing competition series "Blown Away" is back for a third season with some of the glass world's heaviest hitters, all competing for the title of Best In Glass. We are fired up to announce that amongst this season's competitors is Pittsburgh Glass Center's own John Sharvin! All 10 episodes of Season 3 will be released on Netflix on Friday, July 22, 2022.
To celebrate the launch and find out who was chosen "Best in Glass," we will hold a FREE "Blown Away" watch party and demonstration on Friday, July 22 from 5-9pm. Everyone is invited to watch John Sharvin in action creating hot glass art, talk to him, and learn about his process and his experience on "Blown Away." Season 3 will be streaming throughout the evening.
Pittsburgh Glass Center Director of Operations Chris Clarke, who appears in Episode 3 as a guest judge, will be available to talk about judging the competition.
In Blown Away, 10 glass artists have come to North America's largest hot shop to push themselves to their creative limits. In each episode, the glassblowers must impress the Evaluators or risk being eliminated. At stake is a life changing prize that will send their careers to new heights. Blown Away is hosted by Nick Uhas, with Resident Evaluator and Glass Master Katherine Gray.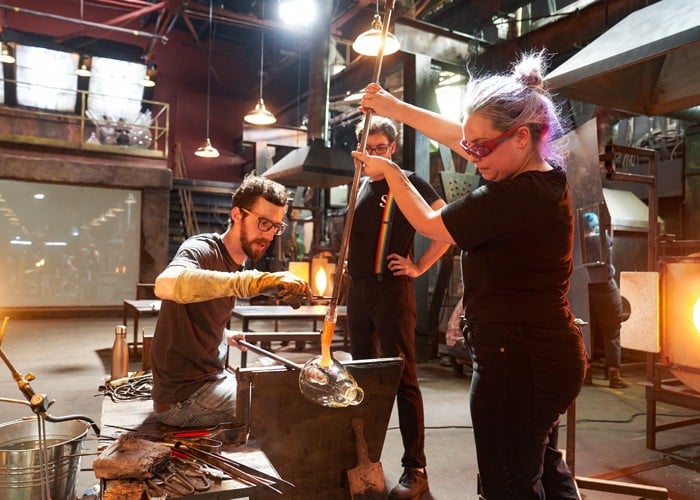 "This season of Blown Away is going to be one of the best, all the contestants are extremely talented and I cant wait to watch," said John.
John Sharvin was one of 10 selected for the competition that was filmed in Canada over five weeks in September and October 2021. He is the studio technician manager at Pittsburgh Glass Center. He began working in glass in 2008. After graduating from The Ohio State University in 2012 and working in Columbus for a few years, he joined the staff at PGC as a technical apprentice in 2014. He was the curator of the exhibition "Silica Valley" at PGC in 2020 that showed that the components of technology and art are not so separate and can mesh in interesting new ways.
John makes his one-of-a-kind artwork at PGC and also a line of glassware that he describes as "handmade glass with robot assistance" that is inspired by his interest in the interplay between technology and human creativity.
"Being a contestant on 'Blown Away' Season 3 was an incredible experience. It was hot and challenging but was a truly life changing time for me," John said.