When I moved to Pittsburgh 22 years ago fresh out of undergrad to work at Pittsburgh Glass Center, I knew this place was going to be special. What I didn't know was that I would get to be part of such an incredible community of artists.
Co-founders Kathleen Mulcahy and Ron Desmett believed that if 'they built it, artists would come' and over the last 20-plus years more than 55 artists have moved to Pittsburgh, bought homes, and started businesses, all because of PGC. While there is a ton of excitement about a new building, the real energy comes from our robust community of people who bring life to the organization on a daily basis.
Pittsburgh has a rich history of glassmaking, and the future looks bright. We are already a destination in the region and we look forward to amplifying the art and craft of glassmaking in Pittsburgh for years to come.
—Heather McElwee
Randi & L. Van V. Dauler, Jr. Executive Director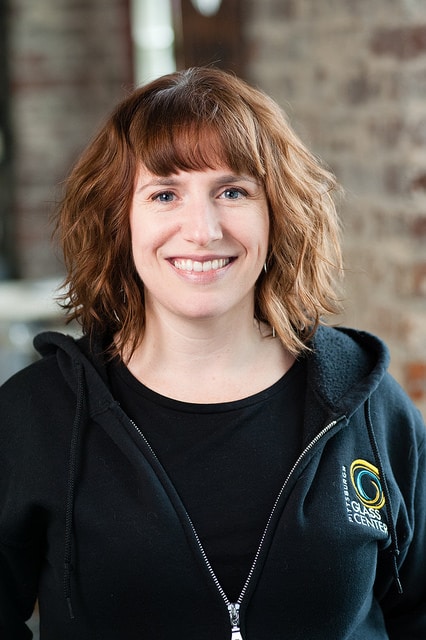 $15 MILLION EXPANSION BREAKS GROUND IN MARCH
Pittsburgh Glass Center (PGC) is glowing up and breaking ground on March 23, 2023 on a $15 million renovation of its current 16,000-square-foot facility.
The expansion includes building up and over the existing parking lot and adding a third floor at 5472 Penn Avenue to improve functionality. The additional 11,000 square feet will allow us to more than double the number of people that visit each year and grow our student base from 9,500 to 12,000!
We will also renovate a second 6,500-square-foot building at 5431 Penn Avenue on the corner of North Graham Street and Penn Avenue, two blocks away from our existing facility, to create additional housing for technical apprentices and visiting artists and add a gallery space for emerging artists and community programming.
The expansion planning began in 2018 after much research and the realization that in order to keep up with the increasing demand for programming, we needed to expand our physical space.
Nearly $11 million of the $15 million capital campaign called Shattering Expectations chaired by Jim and Kathe Patrinos has been secured to date.
We are working with architects Indovina & Associates and general contractor The Albert M. Higley Co. in addition to Vitro Architectural Glass, a unique partner that is donating all of the glass for the project.
Construction begins in March and is expected to conclude by summer of 2024. Pittsburgh Glass Center will remain open during construction. A groundbreaking ceremony will kick off the project on March 23.