Come and spend the week with Margaret and learn to create nature-inspired beads, pendants, and small sculpture. We will spend the first two days at the torch, working both on and off mandrel. Content is sure to include many of the insects that Margaret creates: beetles, bees, butterflies, caterpillars, along with leaves and other foliage. Margaret will then guide you through adding additional detail and complexity using vitreous enamel.
This class is great for beadmakers who want to cultivate skills working off-mandrel on sculptural forms. You will learn to create vibrant color and detail using both glass and vitreous enamel. Our time on the torch will also include learning versatile shapes, including cabochon shapes, findings (like clasps and bails), and several strategies for loops and bails on off-mandrel jewelry items. Our time off the torch will include learning to use vitreous enamel, working on individual projects, and exploration outside the studio for inspiration! Bring your sketchbooks and ideas! We will work together to translate the techniques we cover in class to work for your designs.
SKILL LEVELS: BEGINNER TO ADVANCED
BEGINNER: A student has basic skills but is not yet comfortable performing tasks without instructor guidance.
INTERMEDIATE: A student should have an understanding of basic skills and can perform those tasks with little or no instruction.
ADVANCED: A student is skilled and practiced, and is able to process conceptual and theoretical ideas but might still need some instructor direction on more complicated processes.
INFORMATION ABOUT LUNCH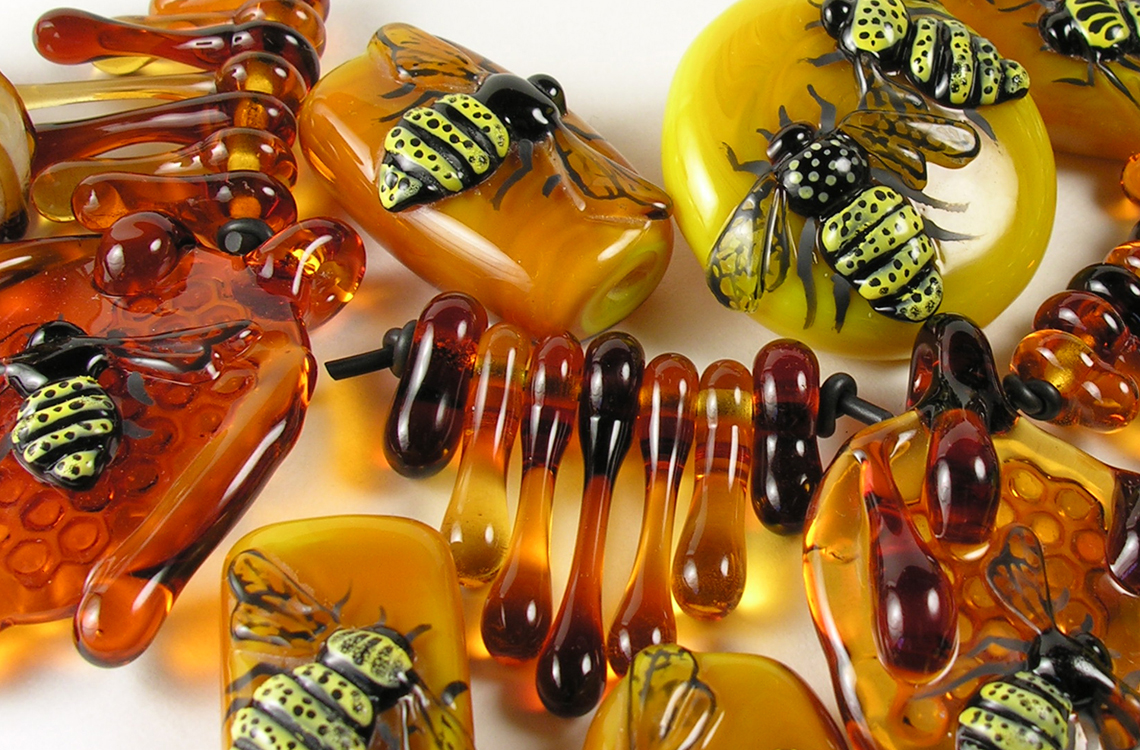 Special Notes
An additional $75 will be added to the tuition at check out for an enamel kit that includes brushes, enamel, medium, palette knife, etc. Enough enamel is included to take home.
Class Details
When
July 20 - July 24 -
Days: Mon, Tue, Wed, Thu, Fri
Remaining Seats: 10
900 sq. ft. air conditioned shop with 12 workstations
Nortel Major/Minor Torches
Benchtop annealers with 12" x 9" interior
Toolbox with essential tools for working with glass
Ventilation hood
And more...
About the Instructor(s)
https://www.mzglass.com
www.instagram.com/mzglass
Margaret Zinser Hunt began flameworking in 2001 while working as a lab scientist preparing for graduate work in entomology. She draws from her study of insects with their vibrant color and intricate detail as a source of inspiration for her glass art. Margaret's work has been featured in multiple glass art magazines and in galleries in the U.S., U.K, Canada, and Japan. She teaches group classes in studios nationwide and abroad, and private classes in her studio in Tucson, Arizona. A strong advocate of community arts, she also volunteers on the Board of Directors of two Tucson nonprofits, Sonoran Glass School and Beads of Courage.