This class is an introduction to the emerging artistic medium known as plasma light art. We will combine the fundamentals of physics and furnace glassblowing to create illuminated glass sculptures... the proverbial lightning in a bottle!
There is something magical about this process of making light, and by producing light through the use of electrified gases we create an invitation for play as it responds to your proximity and touch. If you think this is neon, you will be surprised how different this will be. Plasma light art is an evolving and experimental art form. If this sounds interesting, then we invite you to come join us.
Hot glassblowing has always been a collaborative art making process. This class requires some basic hot glass skills and an open mind prone to misdirection. So it's important that you are comfortable working in the Hot Shop and working with a partner. This means you have a working knowledge of glassblowing fundamentals, while you may need some guidance here or there, and the ability to work through independent ideas with coaching and demonstration.
It's best if you don't come with too many preconceived ideas. Let your ideas evolve here.
SKILL LEVEL: BEGINNER
A student has basic skills but is not yet comfortable performing tasks without instructor guidance.
INFORMATION ABOUT LUNCH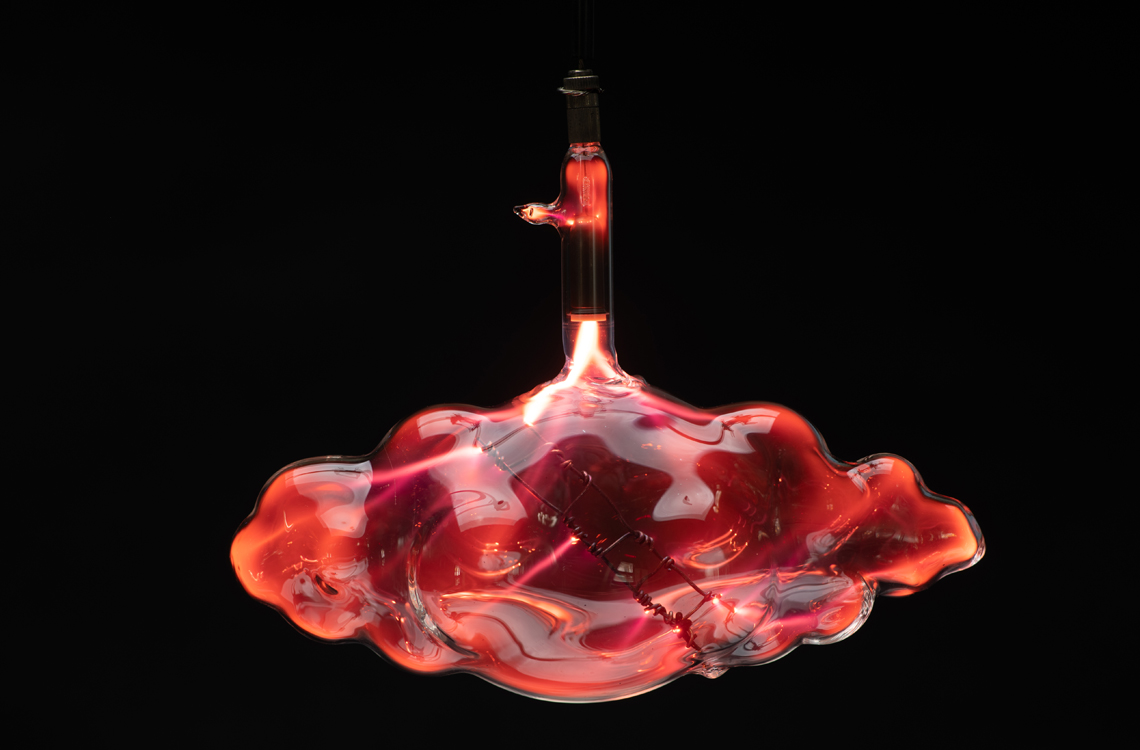 Special Notes
INSTRUCTORS: Percy Echols II + Patrick Collentine

Power supplies and transformers are not included in the class tuition. If a student is interested in purchasing a Neon 21 or Tech 22 supply, there will be an additional $50 charge the week of class.
Class Details
When
August 3 - August 7 -
Days: Mon, Tue, Wed, Thu, Fri
Remaining Seats: 12
2,560 sq. ft.
Two 1,000 lb. Wet Dog invested pot furnaces
Full range of hand tools, pipes and punties
One 18" glory hole with pneumatic doors
One 18" glory hole with barn doors
Two mobile gas-powered garages
And more...
About the Instructor(s)
https://www.percyechols.com
www.instagram.com/glass.percy
www.instagram.com/taminglightning
Percy Echols II began working in glass in 2011 where he took his first Glassblowing Class at Illinois State University. In 2014 he took his first Plasma Light workshop at Pilchuck Glass School, where he met his long-time friend and mentor Pat Collentine. Percy took home this experience to apply what little he knew of this process to the success of his graduating exhibition. After graduating in 2015 with a BFA, he moved to Pittsburgh in 2016 for a year-long apprenticeship at Pittsburgh Glass Center which quickly became his new home. With the support of PGC, along with his podcast and educational project, Taming Lightning, he is currently researching and developing as space for Neon and Plasma Sculpture as an artistic medium.
www.instagram.com/collentinepatrick
Patrick Collentine received his BA in Studio Art from CSU Chico, California in1983. Collentine has worked extensively with luminous glass sculpture and photography working from his neon art studio in Chico. His art practice explores the intersection between art and science combining neon techniques with off-hand glassworking. He has led artist workshops at the Swedish Royal Academy of Art, the Corning
Museum of Glass, Pilchuck Glass School and CSU, Chico. InDecember 2016, he was artist-in-resident at The Glass Factory and Museum ofGlass in Boda, Sweden. 2018, he curated the exhibit 'Vitro Illuminato' at the Berengo Foundation in Venice, Italy. He is on the executive committee for the Plasma Art Alliance formed to promote and educate others about this evolving art form. His work was included in the Corning Museum of Glass publication New Glass, highlighting 100 works selected from 25 years of the New Glass Review.